September 23, 2019 Travel Guides
Oktoberfest in Munich, Germany: The Complete Survival Guide
The History:
It may be called Oktoberfest, but the festival actually starts in September. The festival originally was a celebration of the marriage between Prince Ludwig and Princess Therese in 1810. Today, we know it as the festival of Lederhosens, pretzels and beer! The festival takes place over the course of three weekends with over 7 million people visiting from all around the world! While there are now Oktoberfest parties, events and bar crawls in every corner of the world, there is nothing like going back to the source and experiencing the original German festival in all it's glory.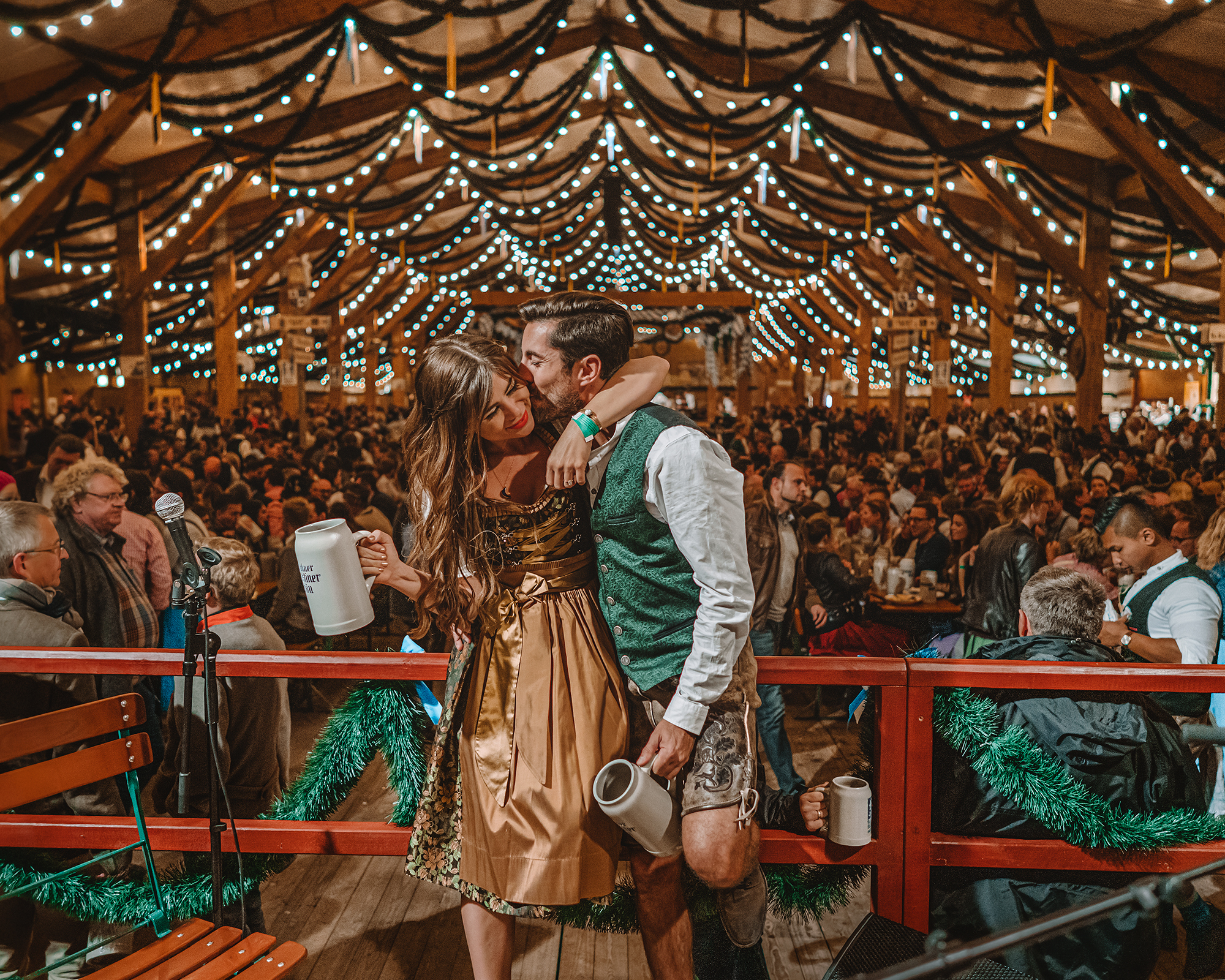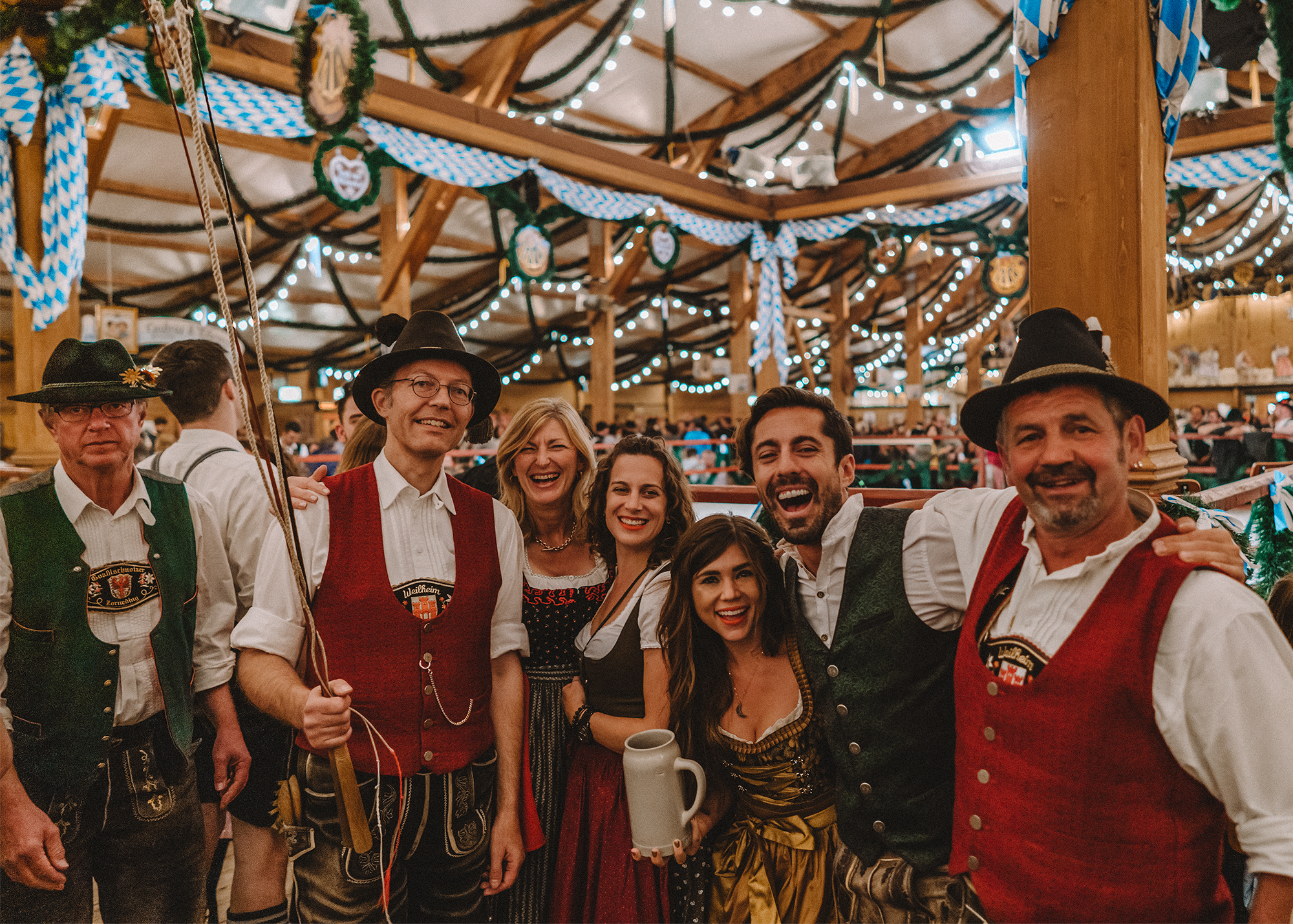 Getting Dressed:
Half the fun of Oktoberfest is wearing the outfit! I would say well over half of the people we saw at the festival were wearing the traditional Bavarian outfits, and it is highly encouraged to participate -it all adds such a fun atmosphere!
The traditional dress for women is called a Dirndl, which is made up of three pieces: a blouse, bodice dress and apron. These can usually be purchased in a set. The dress is meant to fit tightly and push up and accentuate your chest. But be careful not to get it TOO tight, or you will be super uncomfortable after drinking and eating. For length, traditional dirndls are usually at knee-level or longer. Only tourists really wear the very short dirndls.
The placement of the bow on your apron is very important, as it designates your relationship status. Bow on the Left means single and ready to mingle, Bow on the Right means taken or married.
Lederhosen translates literally to Leather Pants, but is generally referred to as the whole outfit. Most lederhosen look fairly similar, but higher quality pants will be made of real, fine leather and have detailed tooling. Men are said to only need one pair of lederhosen for life - as long as they can still fit into them. The traditional look with Suspenders is optional, and Brandon opted for a vest instead, as the locals we were shopping with told us that the vest look is much more popular and authentic at the moment. Lederhosen are typically worn with a button up shirt, high socks, and leather shoes or boots.
A proper, high-quality Oktoberfest outfit can cost around 300-500 Euros, are made from fine leathers and silks, and can last a lifetime. Ours came from El Picaflor in Munich, and the detailing is incredible. However, it is not necessary to spend this much.
There are cheaper options for outfits everywhere in Munich in September and October, with full outfits available as sets in almost every train station and touristy shop for around 40-100 Euros. While locals will be able to tell that you are wearing polyester, if this better fits your budget, there is no reason to break the bank on an investment piece.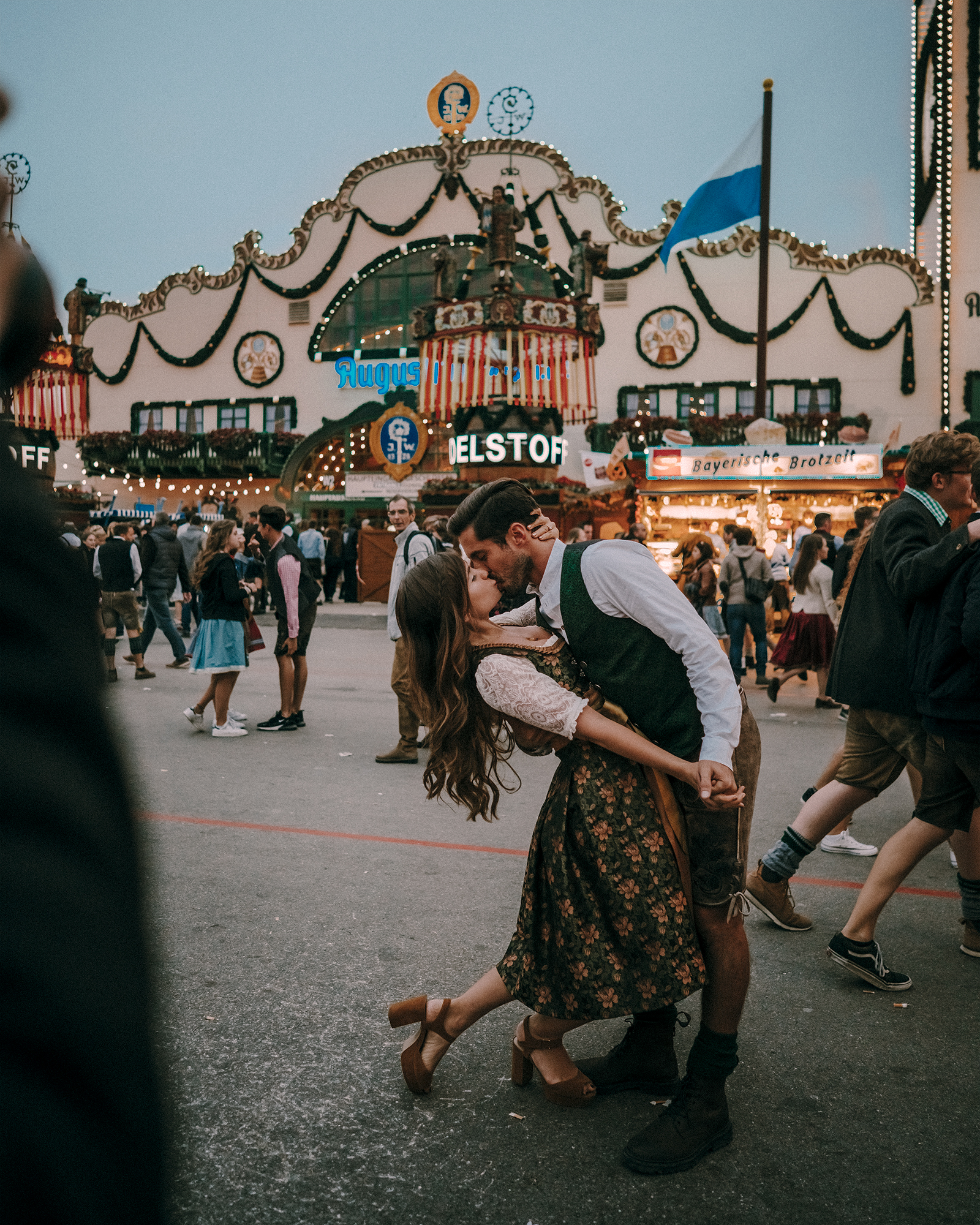 Getting There:
Oktoberfest in Munich takes place at Theresienwiese, a large open space in the city center. If you're not lucky enough to have lodging within walking distance of the venue, don't worry. Public transportation in Germany is easy and effiecient.
U-Bahn: Take the U4 or U5 to Theresienwiese or Schwanthalerhöhe and follow the crowds of people.
S-Bahn: Take the S1 – S8 to Hackerbrücke and then walk (10-15 min)
Streetcar: Line 18 or 19 to Holzapfelstraße or Hermann-Lingg-Straße or Line 16 an 17 to Hackerbrücke
Ubers and taxis: These can get pricey around the area so I suggest taking a taxi somewhere near a U-Bahn or S-Bahn station then taking public transportation the rest of the way.
Opening Hours:
Beer Serving Hours
Opening day 12.00 noon – 10.30 pm
Weekdays 10.00 am – 10.30 pm
Saturday, Sunday & holiday 09.00 am – 10.30 pm
Daily closing hour 12.30 am, some tents 1.00 am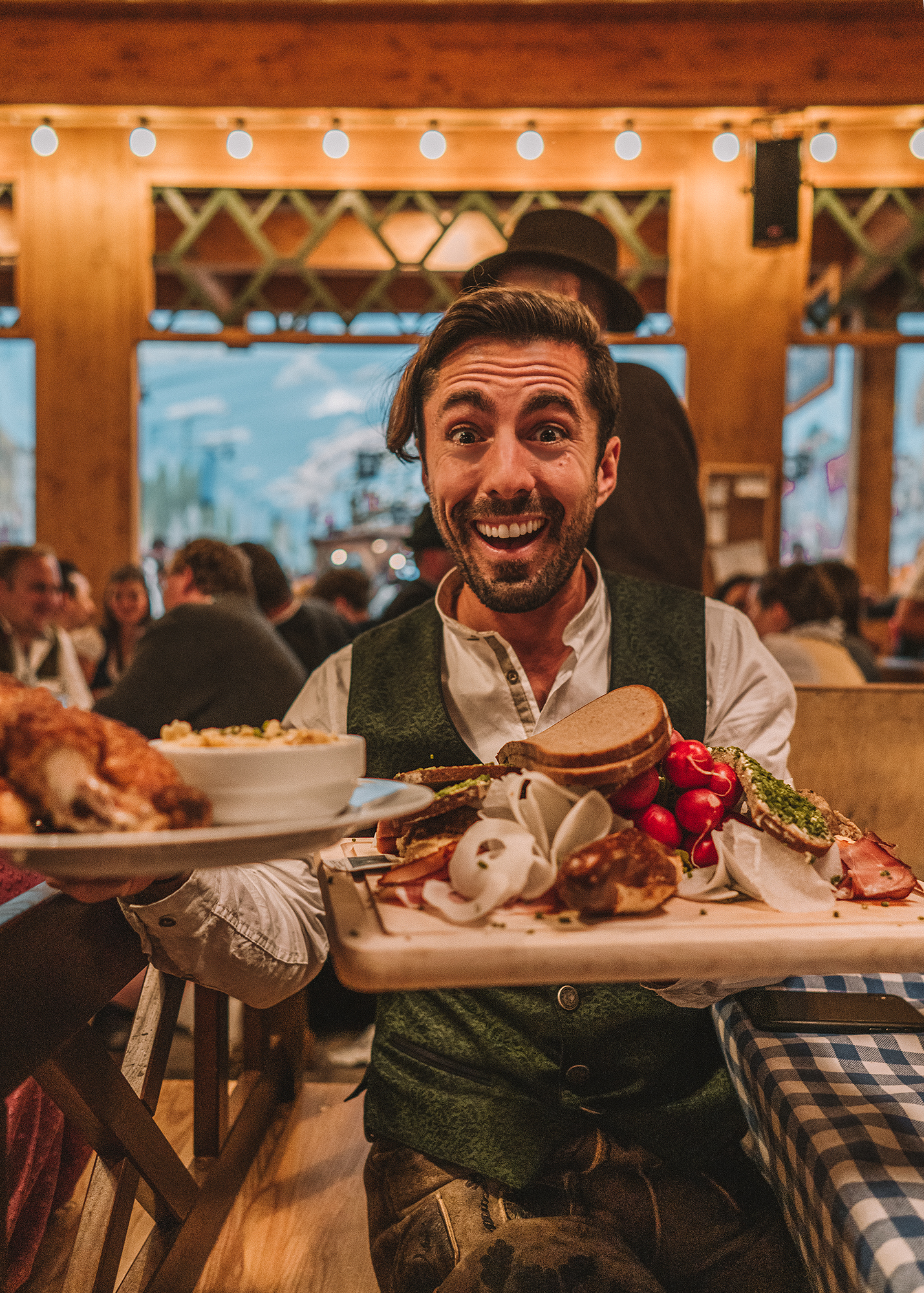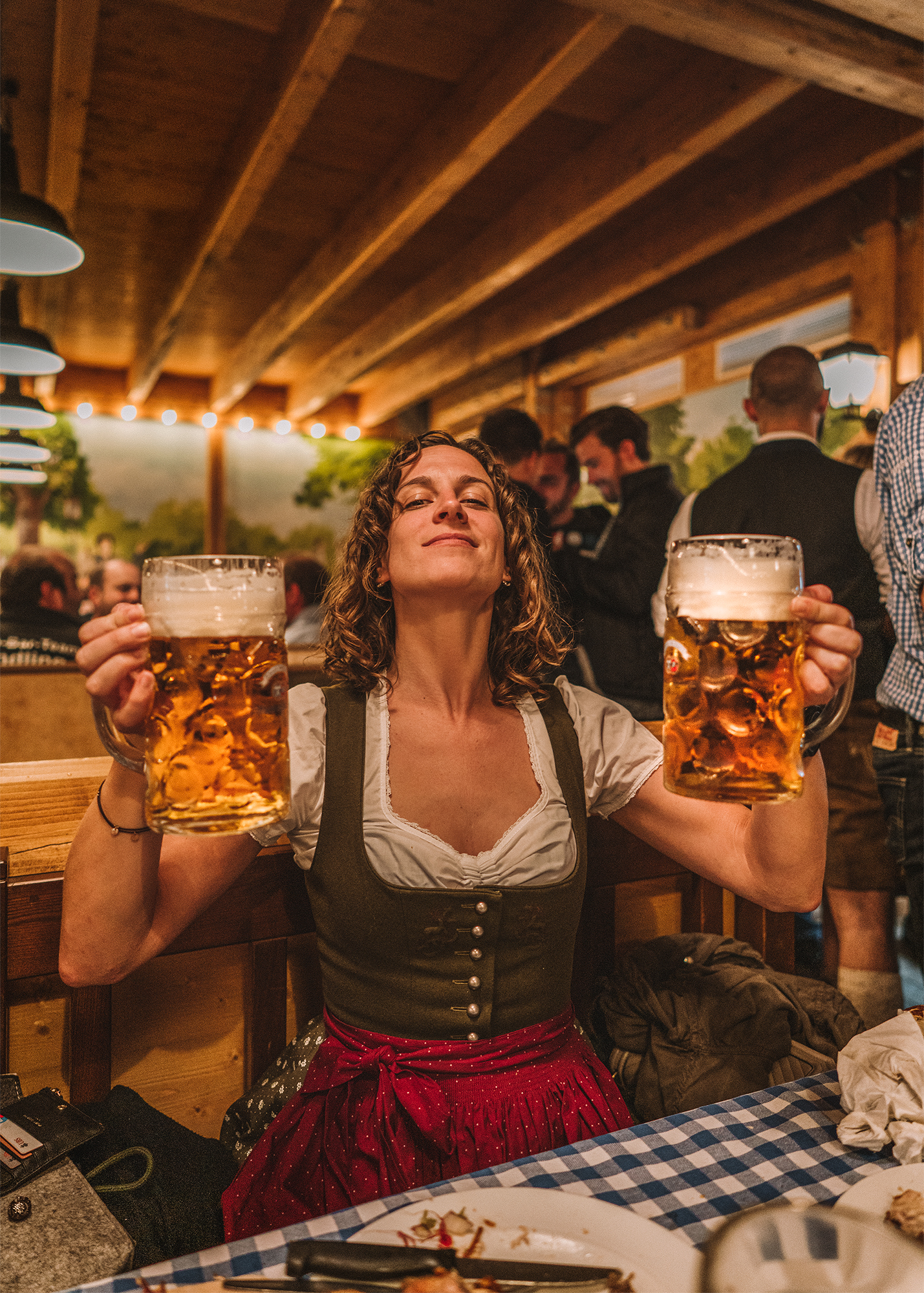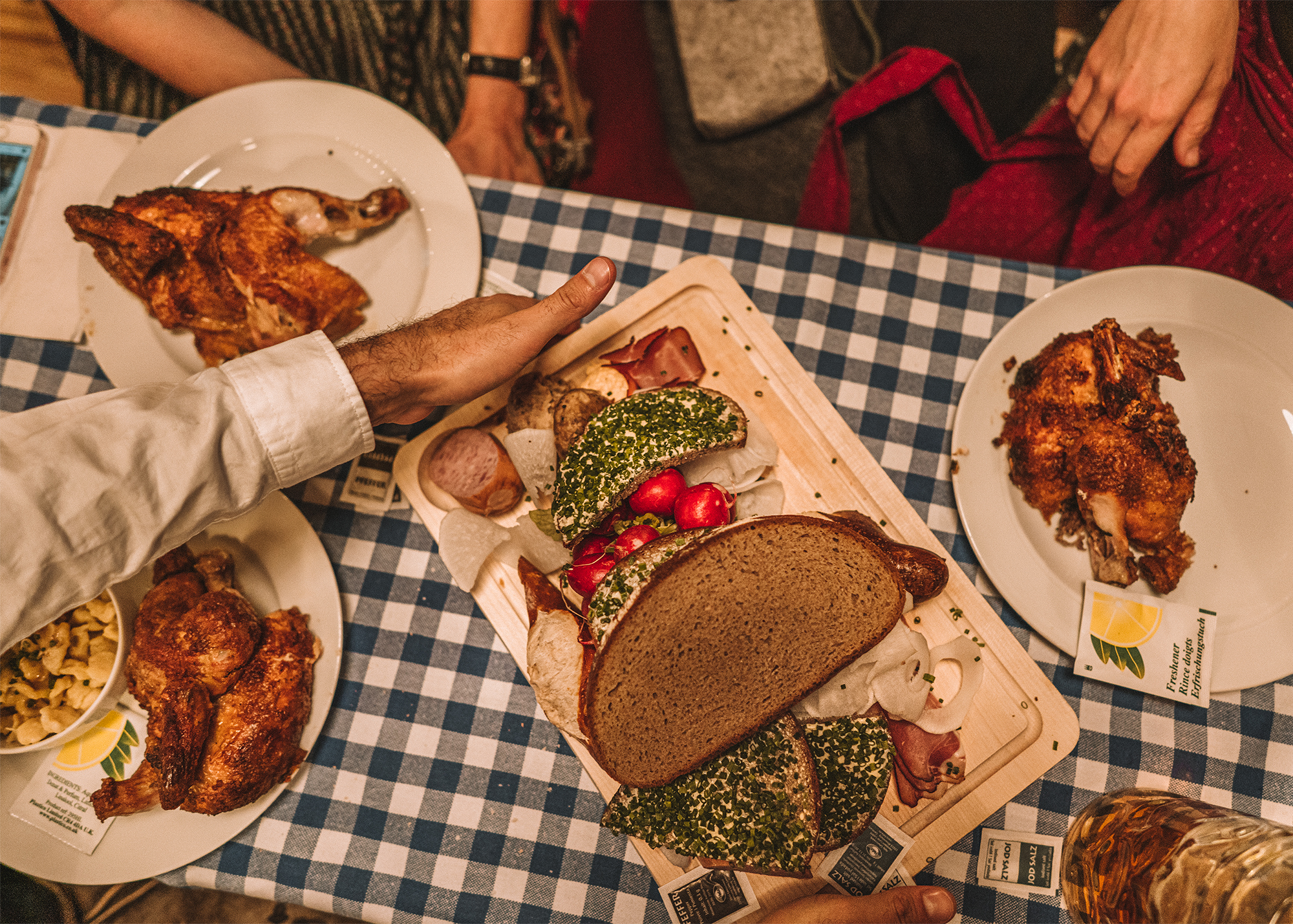 Can't Miss Eats:
Oktoberfest Beer - I mean... it goes without mentioning, but what else can you put in the #1 spot? A special Oktoberfest Beer is served at the festival that you cannot get any other time of year. Oktoberfest beer is stronger than regular beer, at an average of 6 -7% Alcohol Content. There are six breweries in Munich known as "the Big Six", each serving their own beer in their tents.
Giant Pretzels - You can't Oktoberfest without enjoying a giant pretzel! First for photos, and then for eating.
Hendl - A seasoned, roasted half chicken - Hendl is one of the most popular staple foods of the festival and is glorious to rip into after a Litre of beer.
Käsespätzle - I LOVE Spatzle, and this was one of the best I've had. If you're not familiar, Spatzle is a bowl of deliciousness that is somewhere between small pasta and dumplings. The Bavarian Kasespatzle is covered in cheeses and then topped with caramelized onions. You can see a glimpse in the left bottom corner in the photo above.
Sausage Feast - Get your bratwurst, currywurst, and Weißwurst on as well. Extra mustard for me please!
The Costs:
There is no entrance fee to the festival or most of the tents
My Favorite Tent, The Oide Wiesn, (Marquee Tradition Tent) has an entrance fee of 3 Euros
Beer: 11 Euro, and sold by the Liter (33 ounces)
Food: 3 - 5 Euros for a giant pretzel, 12 - 20 Euros for a dinner entree, 5 - 10 Euros for side dishes. many tents have a Lunch Special on weekdays around 10 Euros.
Outfits: 40-100 Euros for a cheaper/tourist Dirndl or Lederhosen outfit, up to 500 Euros for an authentic, high-quality Bavarian outfit
Hotels: Hotel pricing is at a premium during the festival. Luxury hotels can go for 300-800 Euros a night, hostels and campsites start at around 60 Euros a night.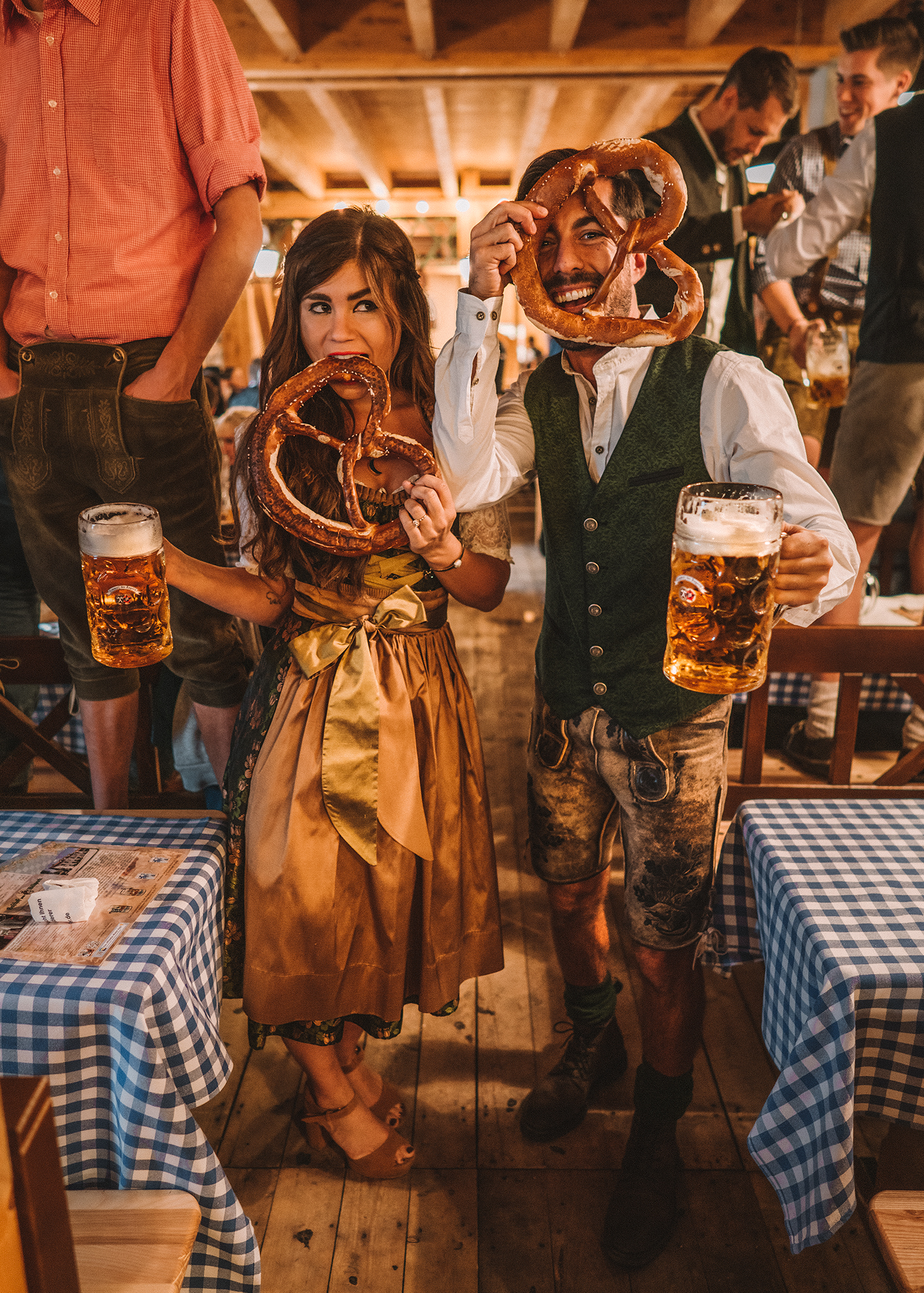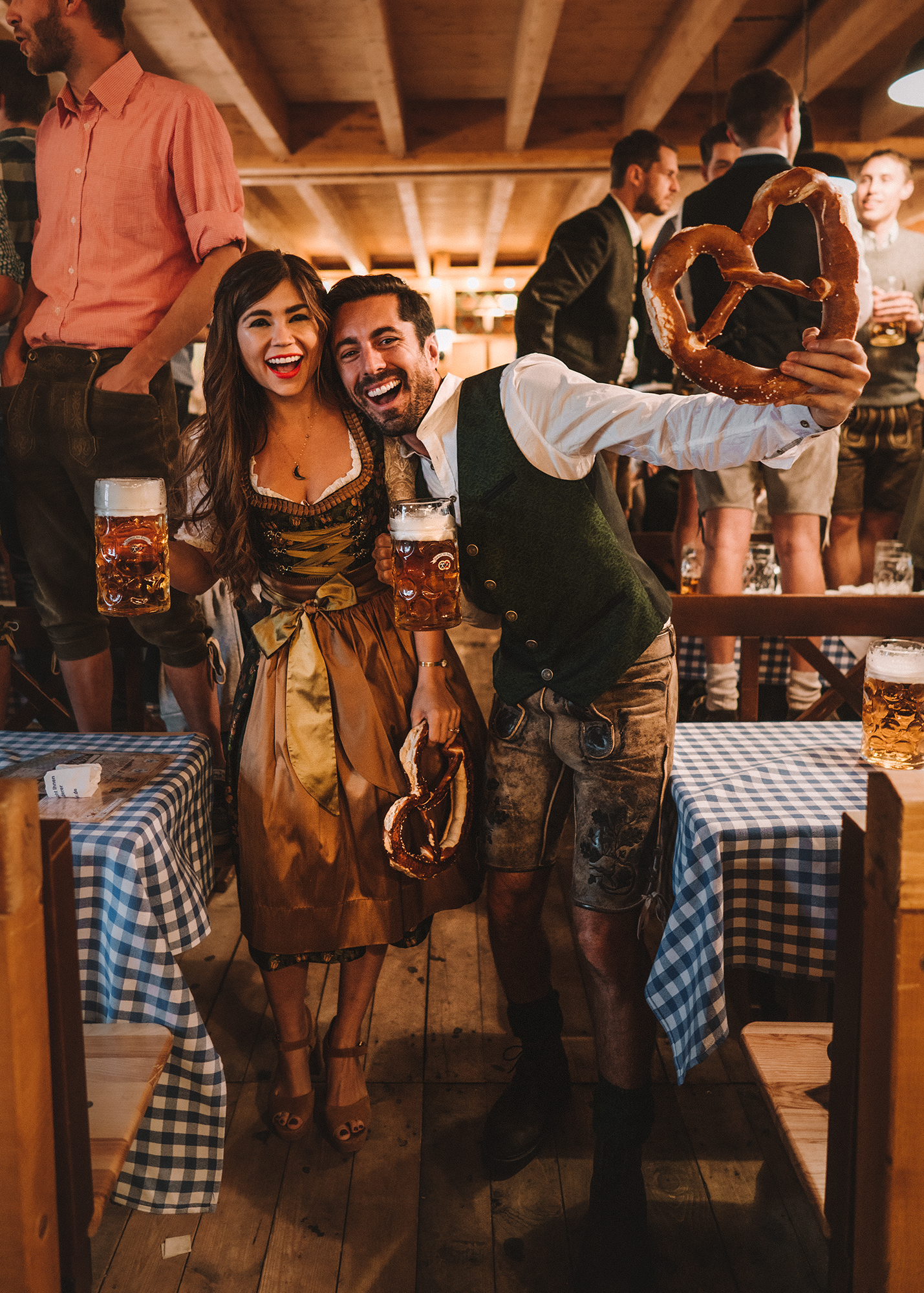 The Tents:
There are over 30 tents in the Oktoberfest grounds! It's not always easy to enter, exit, or find a table at them, so plan strategically which tents you want to visit the most. We didn't have a chance to see them all, but here are some highlights!
We started our evening here! The sky-colored ceilings are a gorgeous, photogenic background in the day, and twinkling after dark. This is a popular tent with locals, and where our German guides took us for dinner! The Hacker Tent is well known for its wonderful beer, music, and its colorful ceiling and wall murals depecting old-world Munich under a pastoral sky.
Another one of the most popular tents - the Schutzen is one of the only places in all of Oktoberfest where you can get hard liquor and wine in addition to beer. It's known for its colorful ribboned ceilings, great music, and celebrity sightings.
One of the largest tents and one of the most popular with international visitors, the Hofbrau is a often known as the tourist tent - and is a wild party.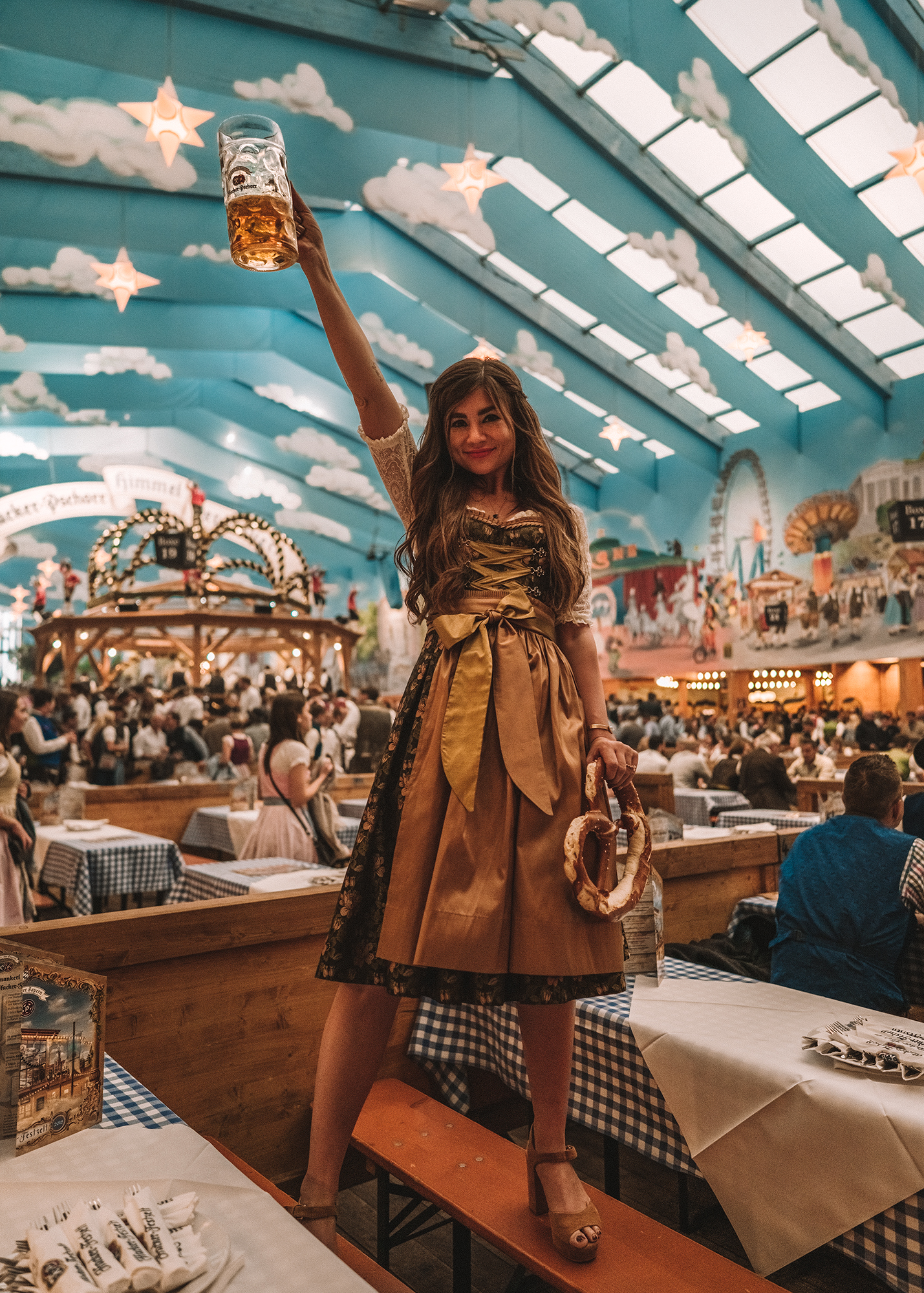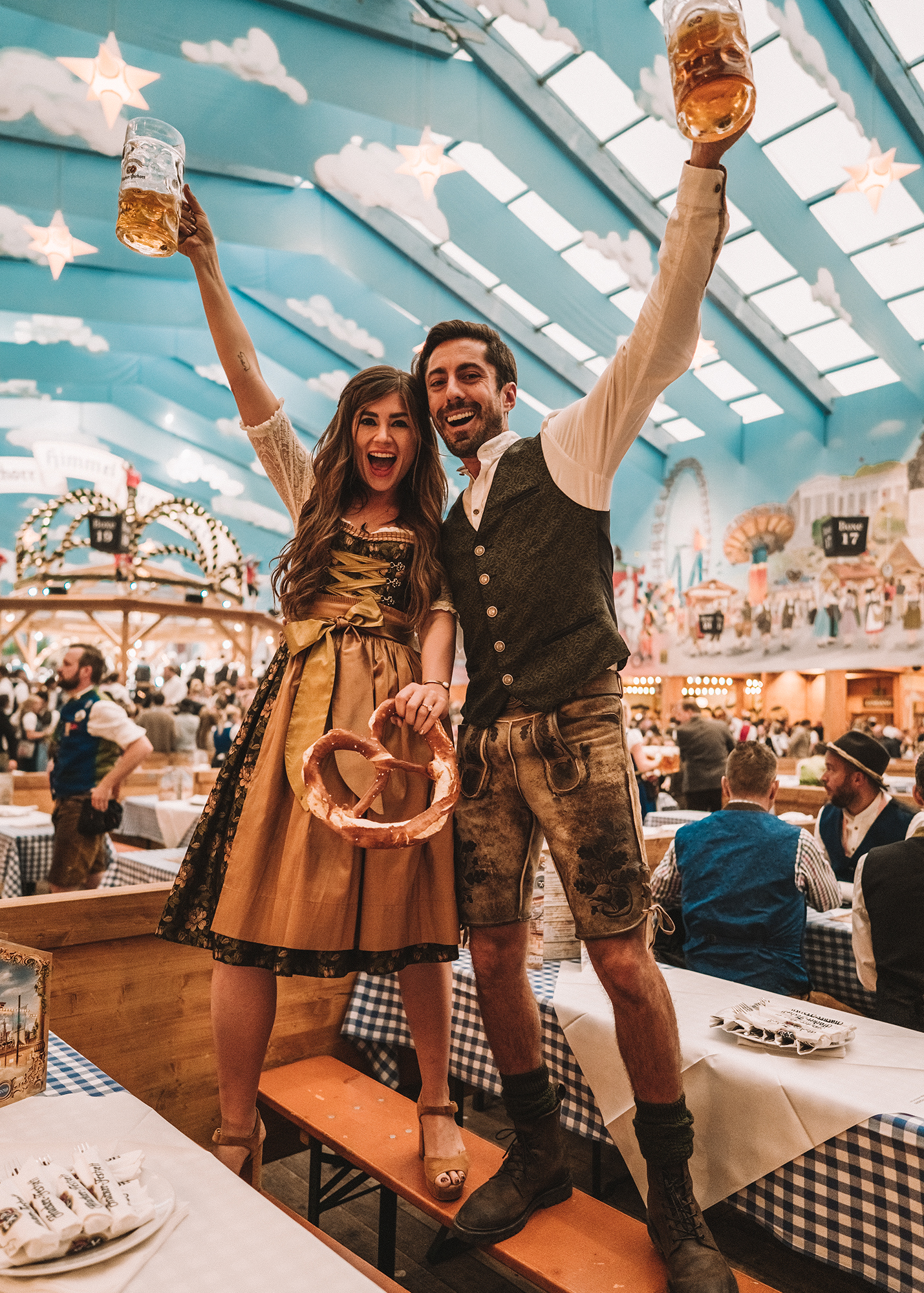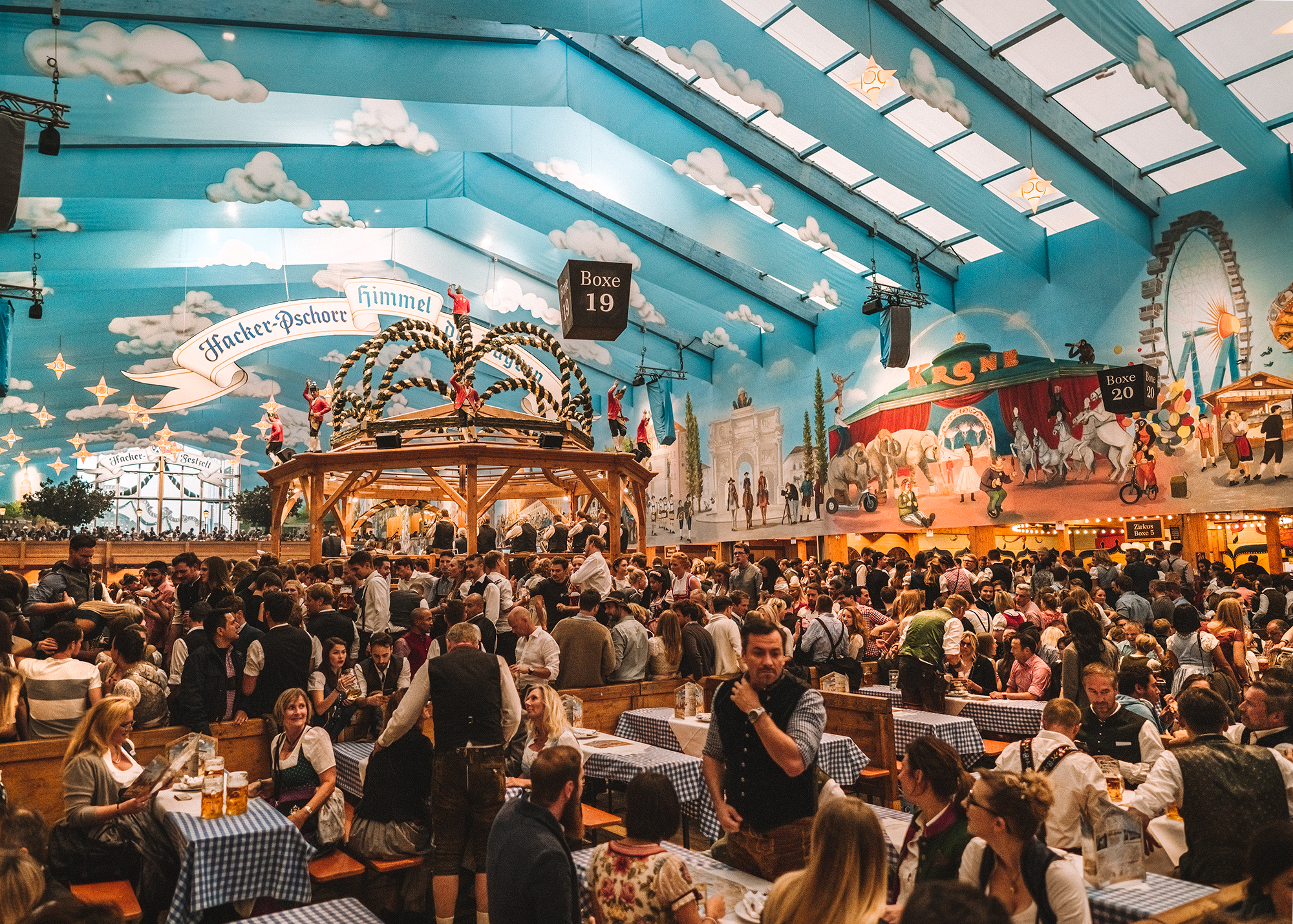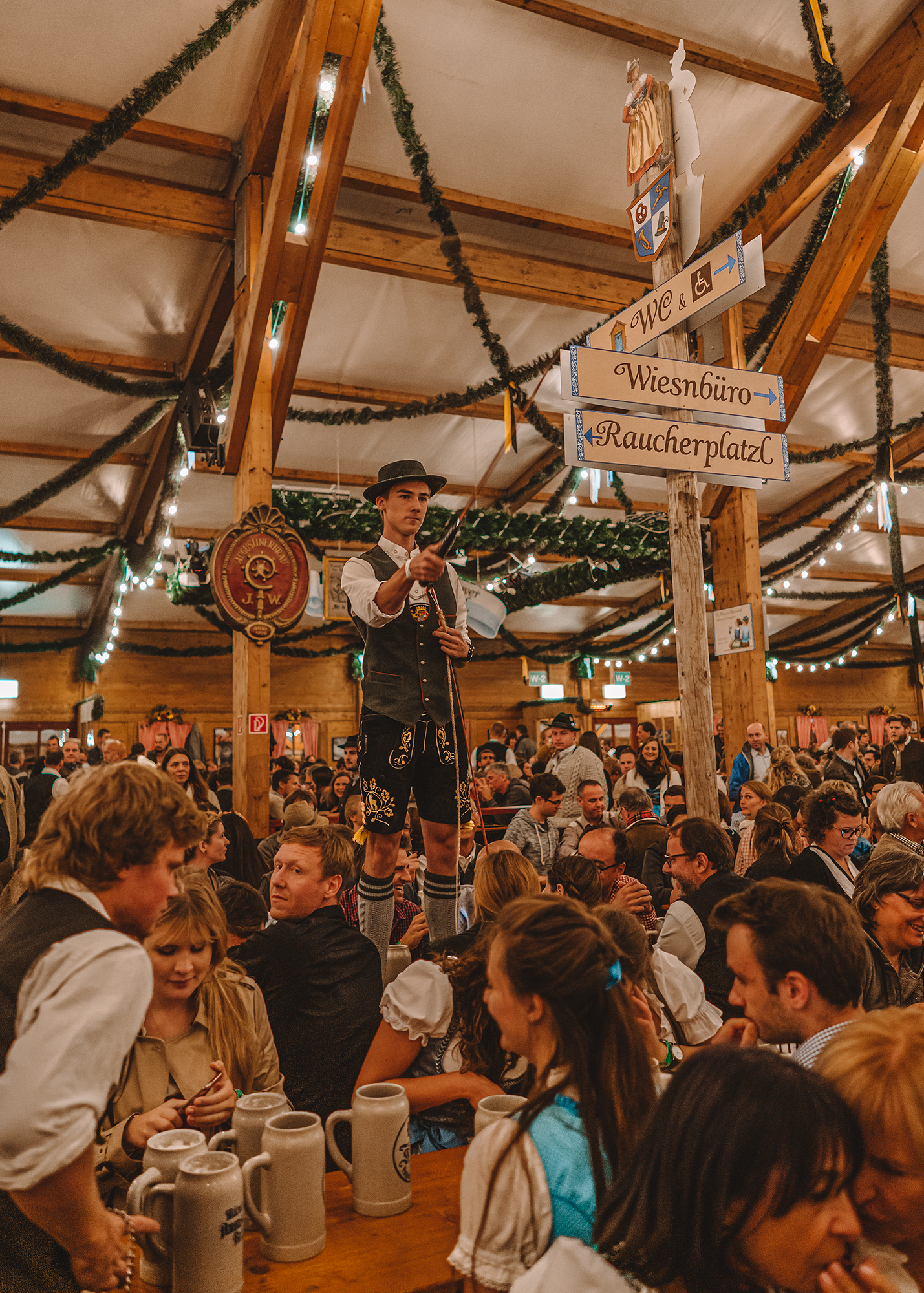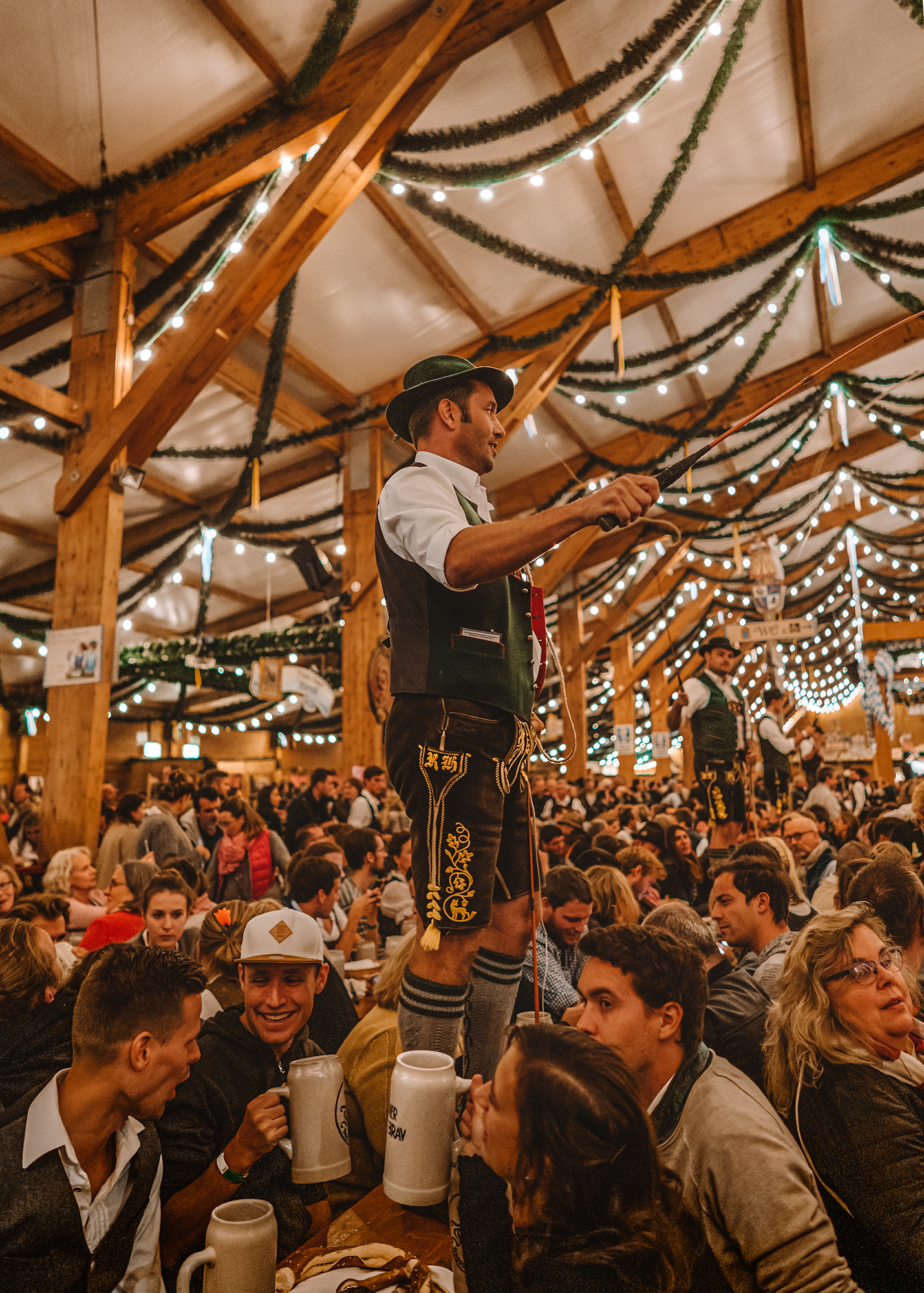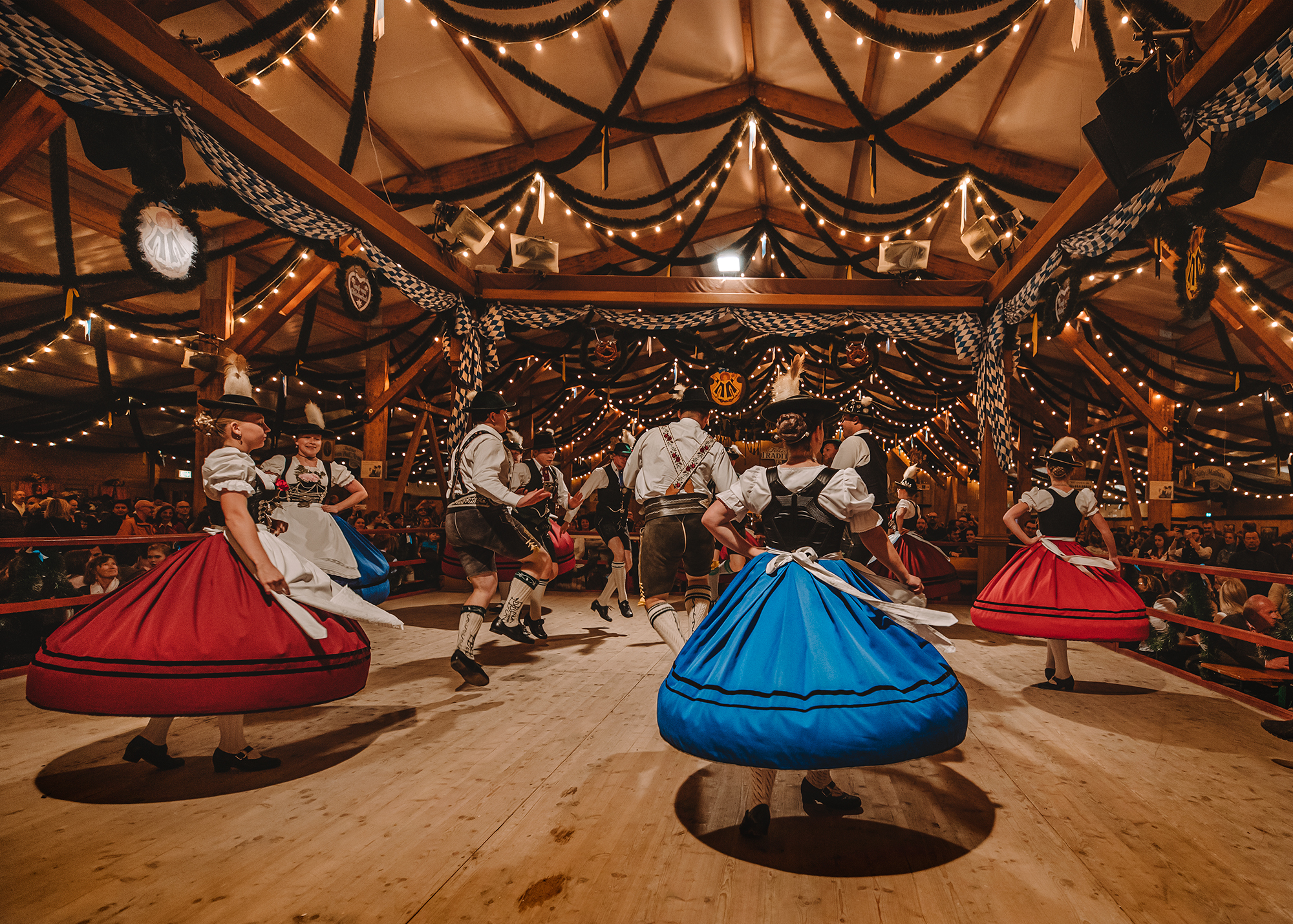 Don't Miss Out On:
Riding the Ferris Wheel! It's a great way to see the massive scale of the festival from above, and isn't too aggressive of a ride to avoid after a couple of drinks.
Befriending the locals: Everyone is here to have a good time! As the evening starts to go on, the German locals are dancing on the tables, and bursting out into group songs. It's an incredible experience to be a part of, join them in it!
Paying 3 Euros for the Oide Wiesn Area - This traditional style tent was intended to only occur one a few years ago to celebrate Oktoberfest's 200th anniversary, but it quickly became a favorite of both locals and visitors and has returned almost every year since. This area has old-school rides, and tents with traditional singing and dancing . It tends to be a lit less rowdy and a bit more civilized than the rest of the tents, and was the highlight of our Oktoberfest!
Getting your Thrill on - If you and your stomach are up for it, there is way more than the ferris wheel at Oktoberfest, there are some serious carnival rides to enjoy.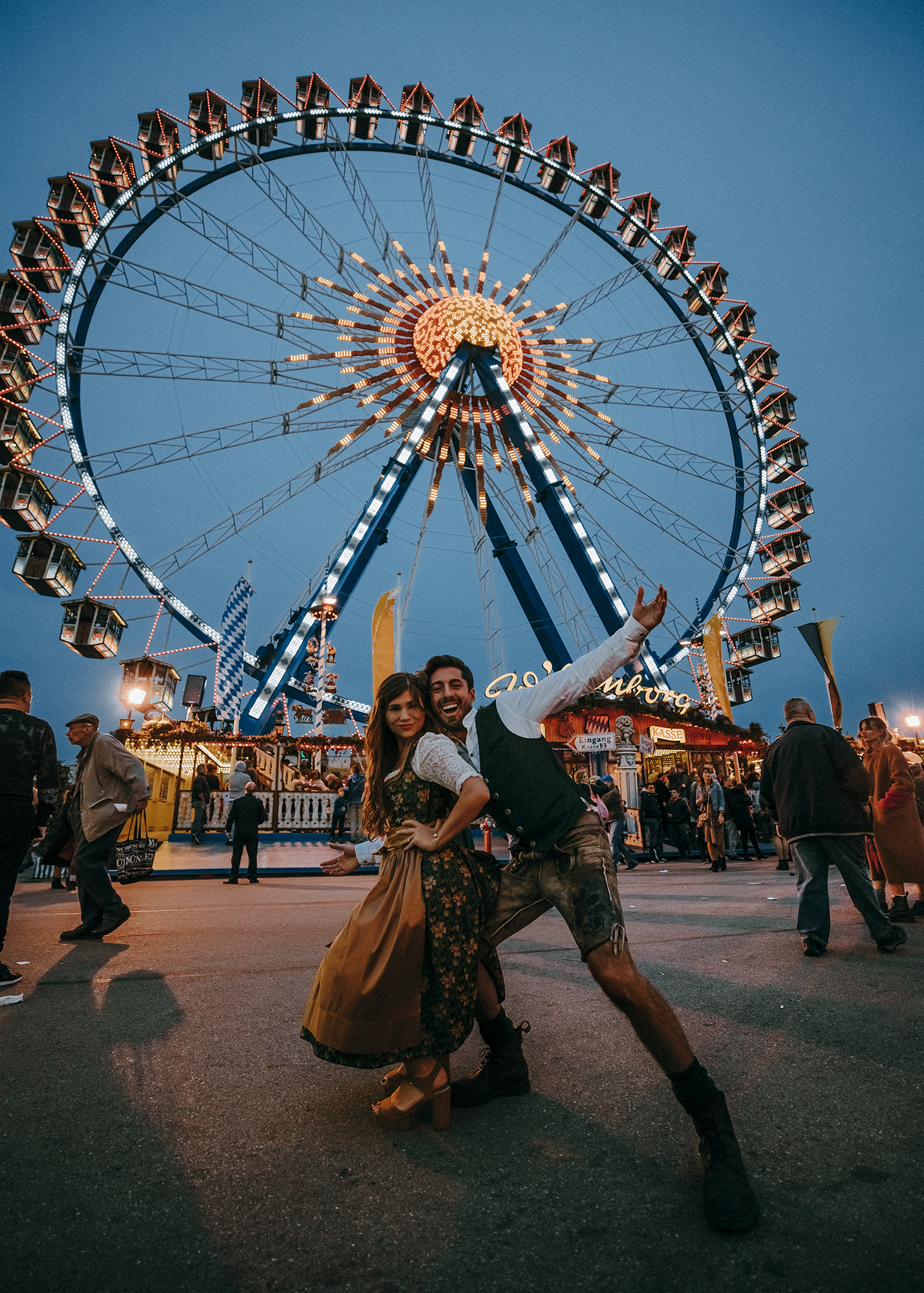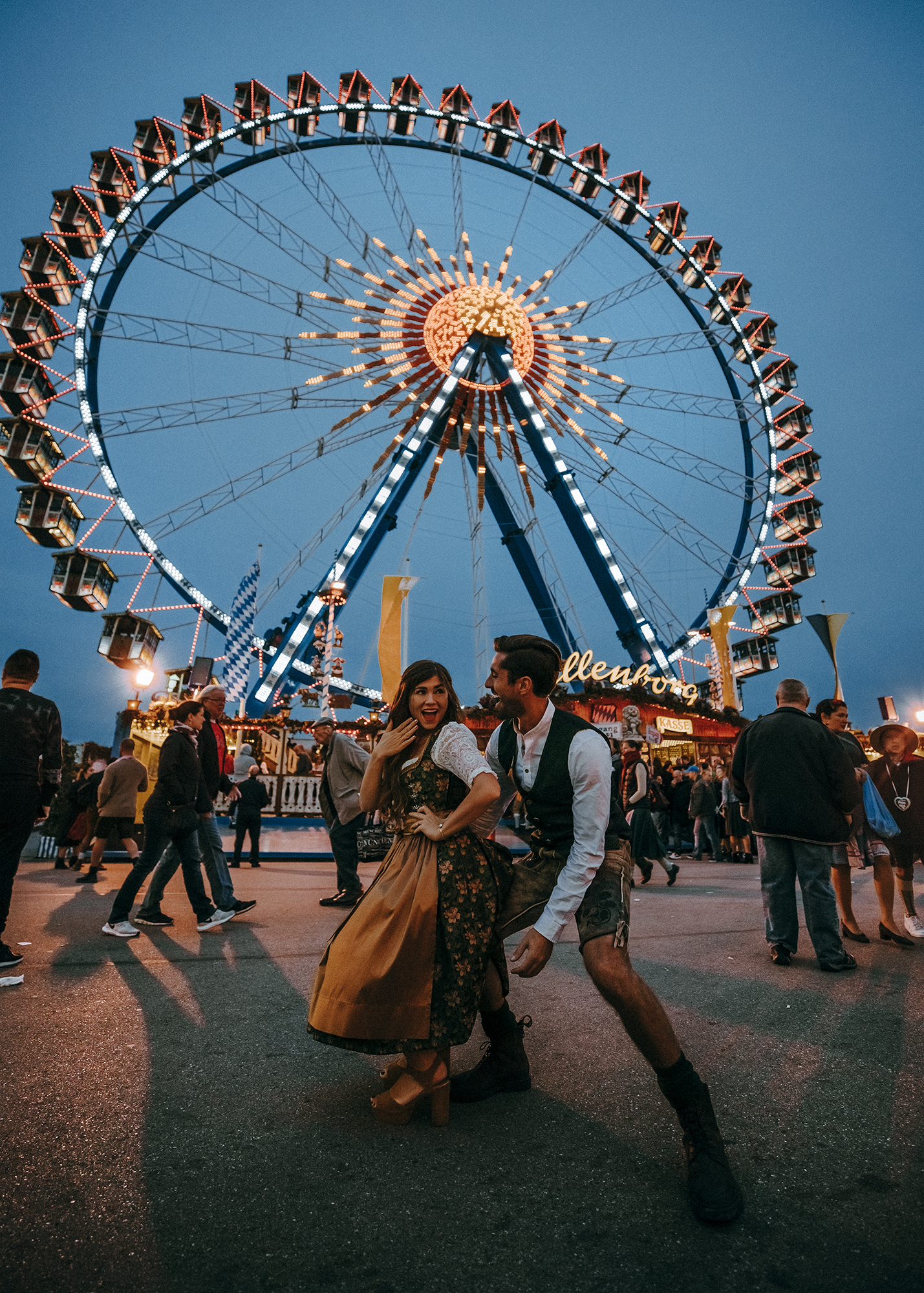 Where to Stay:
Book a spot that is within walking distance of the venue and start booking as early as possible. If you've waited too long and there aren't any within walking distance, just make sure you're close to an U-Bahn station on the U4 or U5 line.
High End:
Andaz Munich - This hotel is brand new, luxurious, and gorgeous, located in an up and coming, hip neighborhood in Munich, just a few minutes away from the festivities. (and you can see our films playing in the lobby!)
Marc München - If you're looking to splurge, check out this luxury hotel located just 5 blocks away. The rooms are ultra-modern and it's located right across from a train station.
Mid-Range:
Hotel Mirabell - This hotel ls all the amenities you need including a 24-hour bar that serves coffee, tea, and nonalcoholic drinks which will be sure to come in handy. It's located a 10 minute walk away.
Budget-Friendly: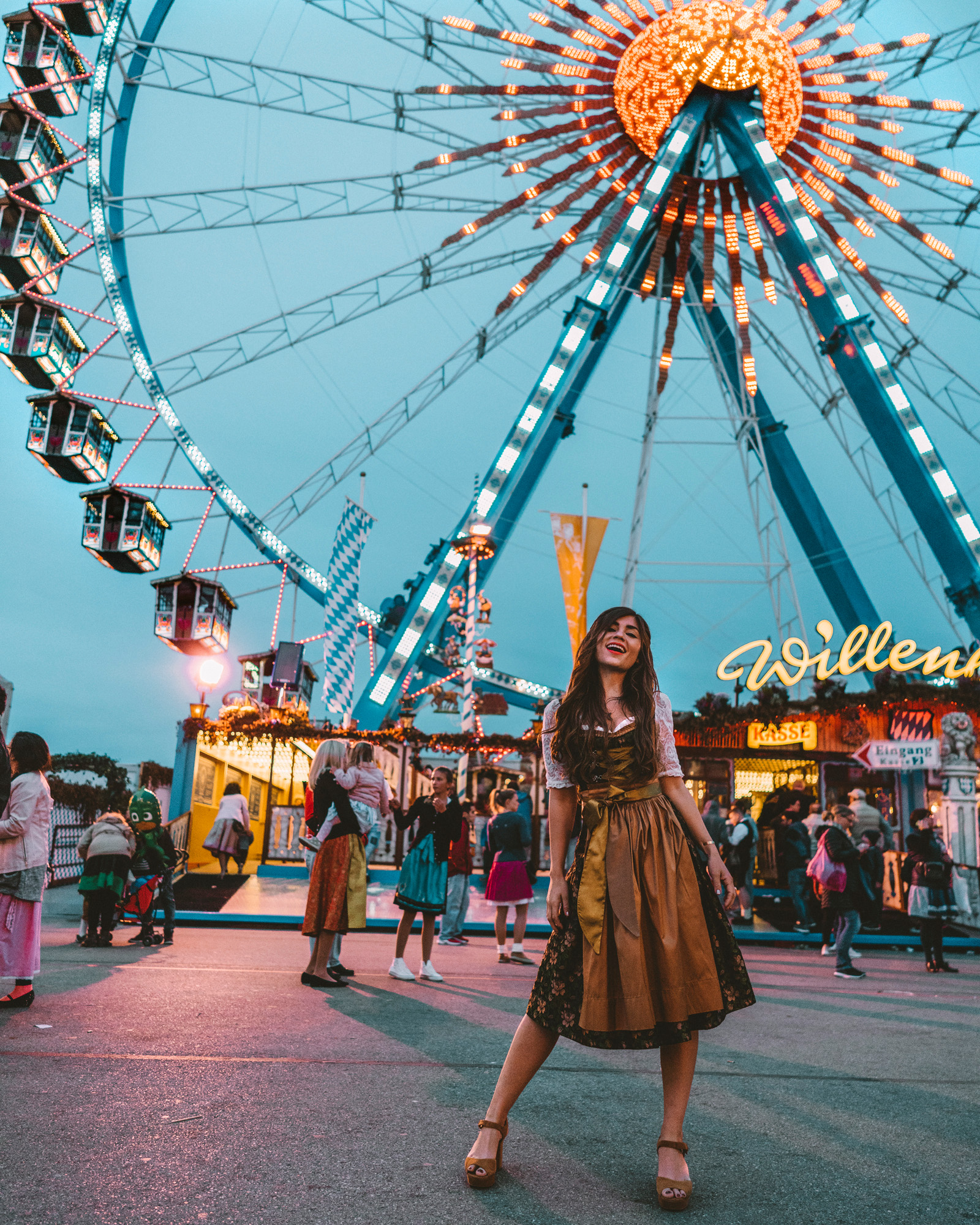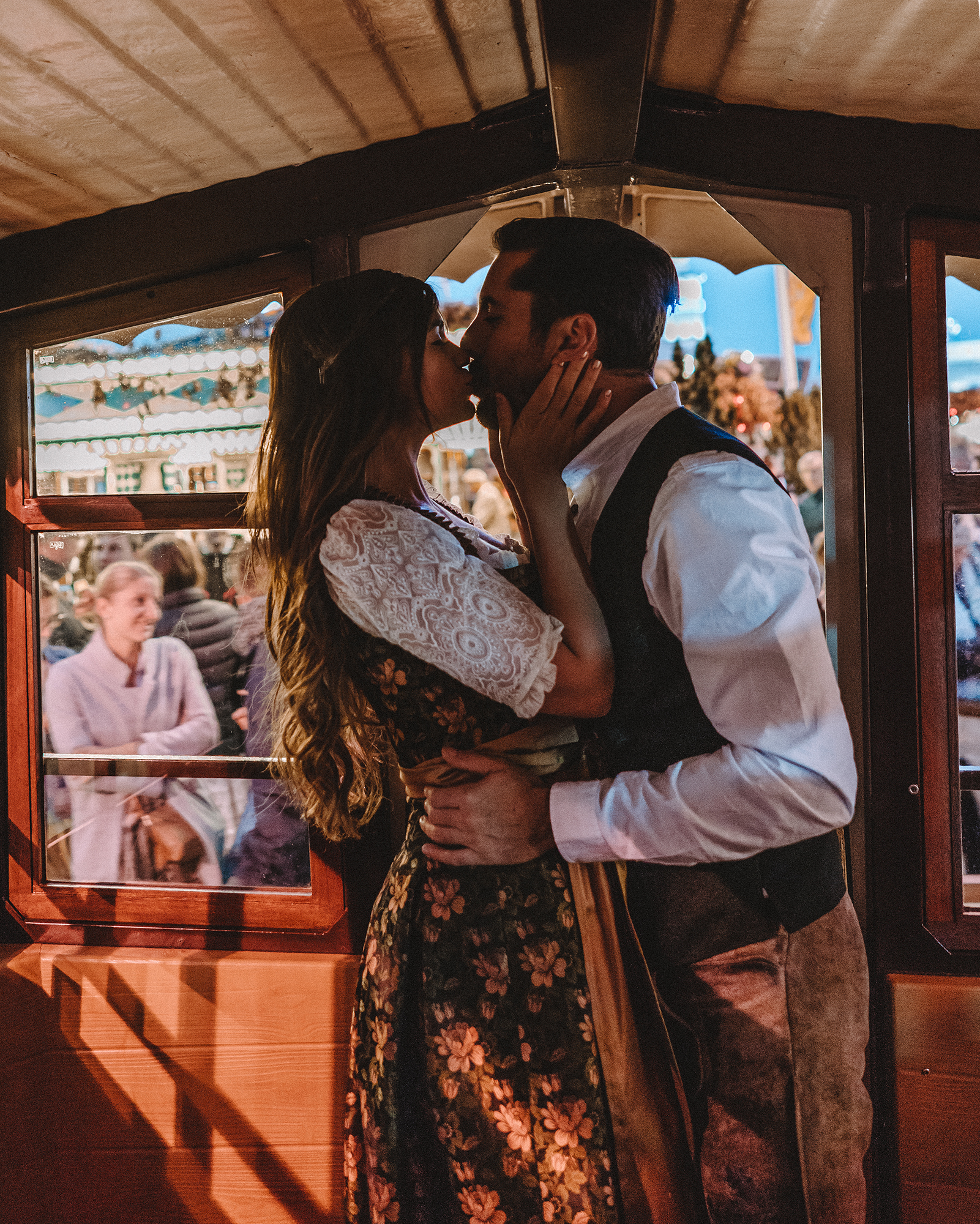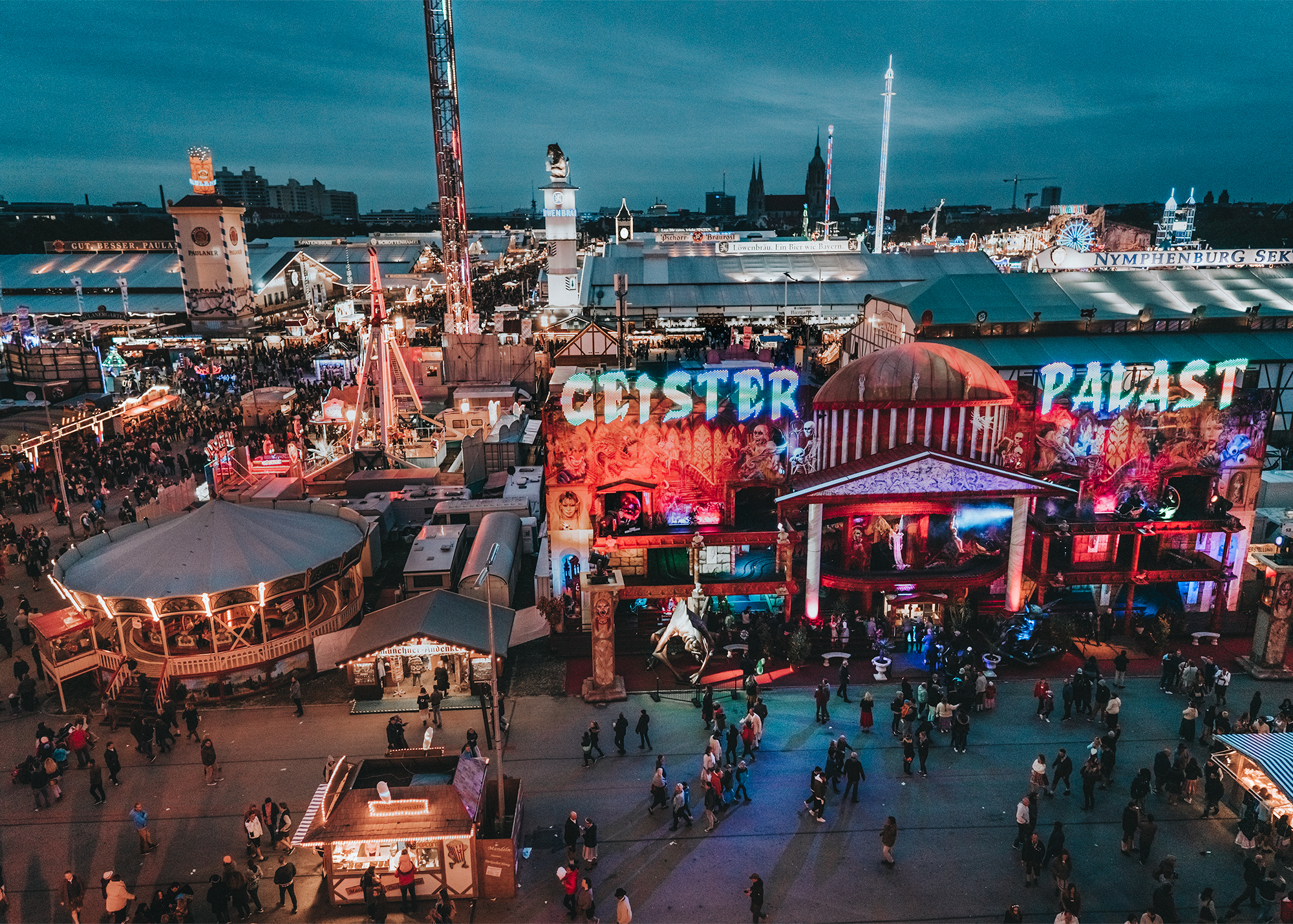 Travel Tips:
Budget! While there is no entrance fee, you'll be sure to rack up some spendings if you don't budget accordingly for transportation, food, etc. Expect to pay about €11-€13 for a litre beer, which can add up quickly.
Get to the tents early! Especially if you don't plan on reserving a table, head over to the tents as early as possible. Most of the tents close around 10:30 PM and you won't make it inside if it's already full.
Bring Cash: The lines for ATM machines can be really long. Cash just makes your life easier.
Prepare for a Party: I have to admit, sometimes big, drunk crowds can make me nervous, and I was very apprehensive upon entering the festival. It is loud, it is crowded, it is rowdy, and it is wild, especially as the evenings go on later. However, after settling in (and the first half liter of beer), I joined in the party more and more and had the most incredible time. Oktoberfest is iconic, and a huge bucket-list experience, and am amazing tradition to be a part of. I would love to go back and do it again soon!
Get Inspired: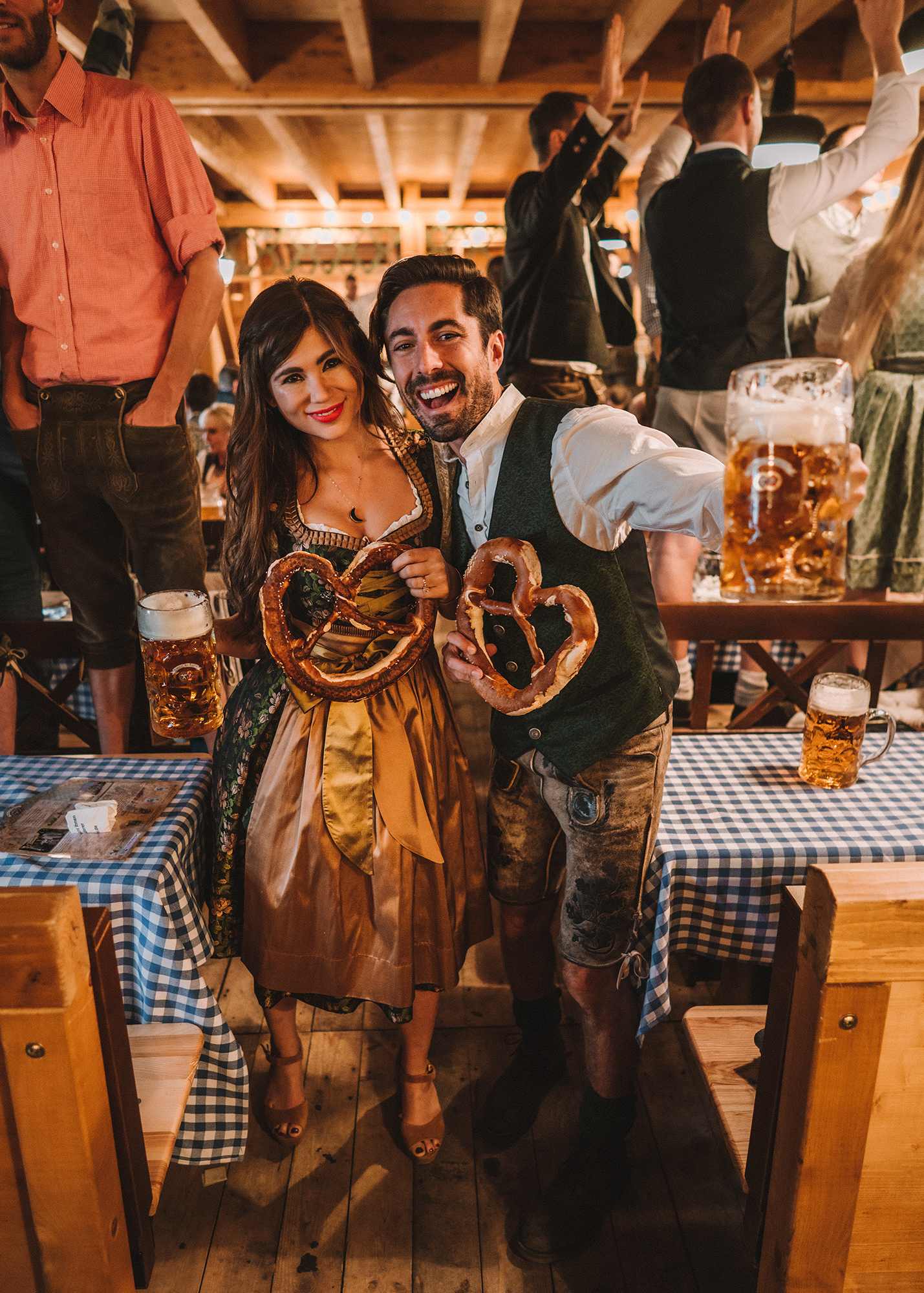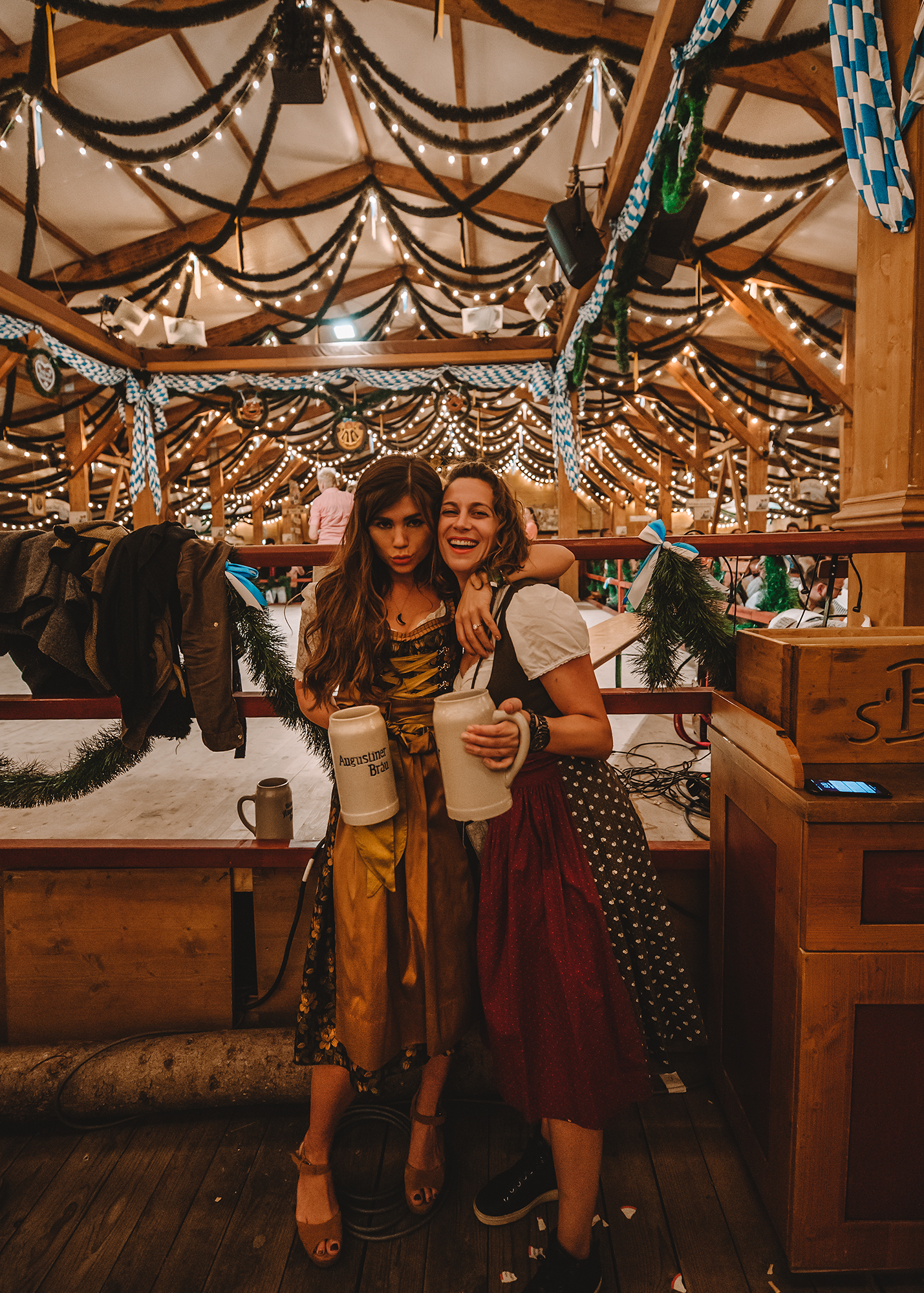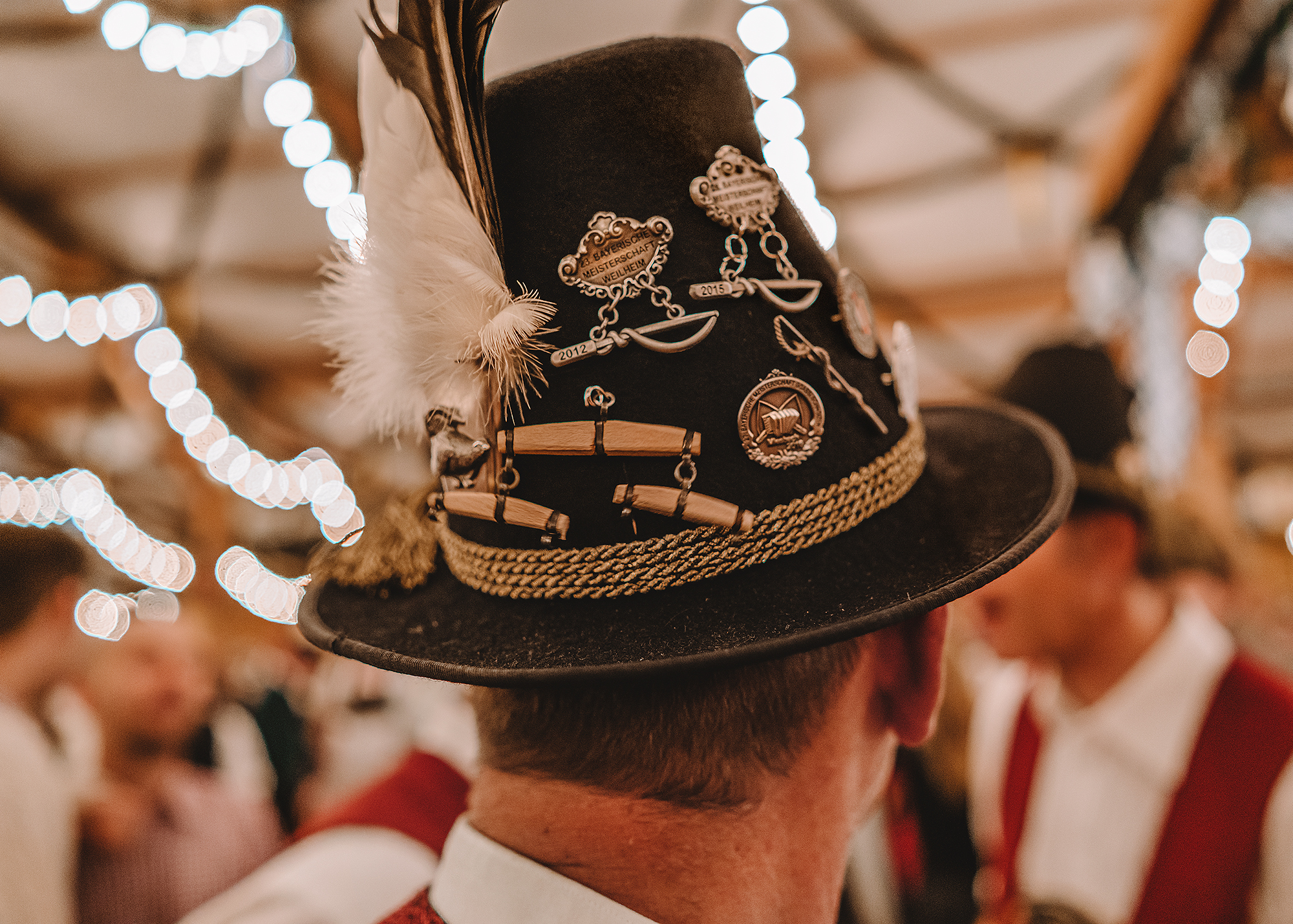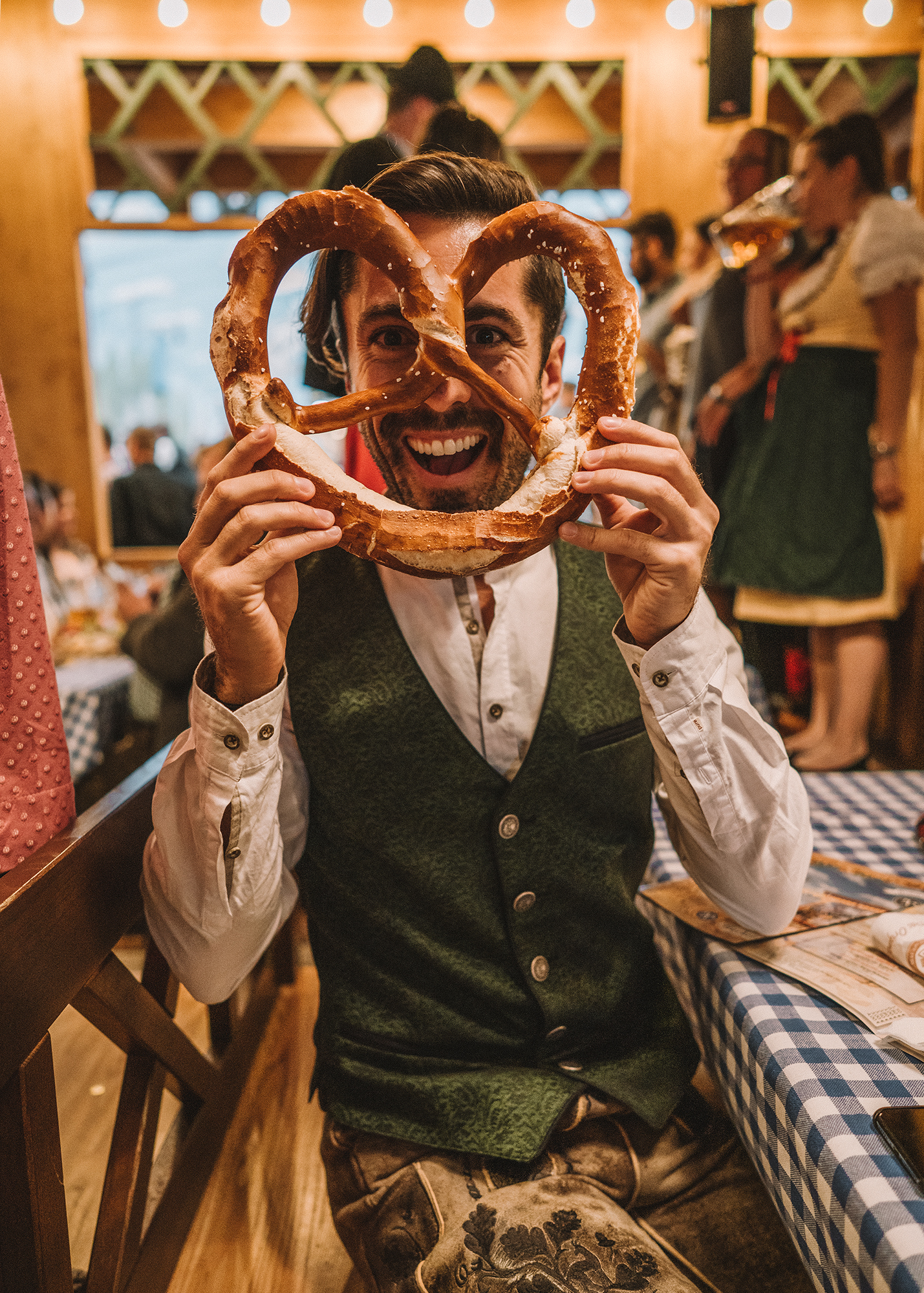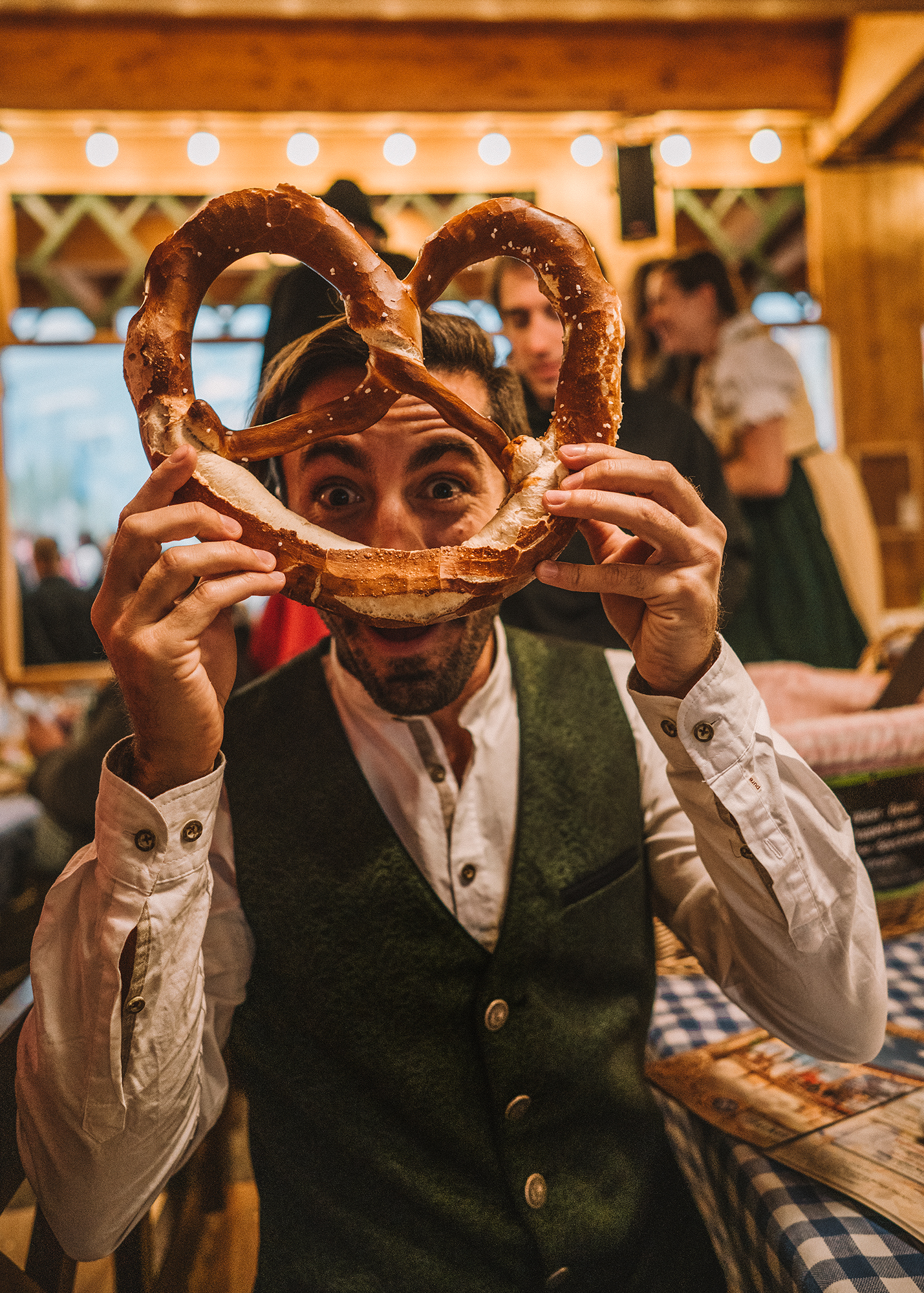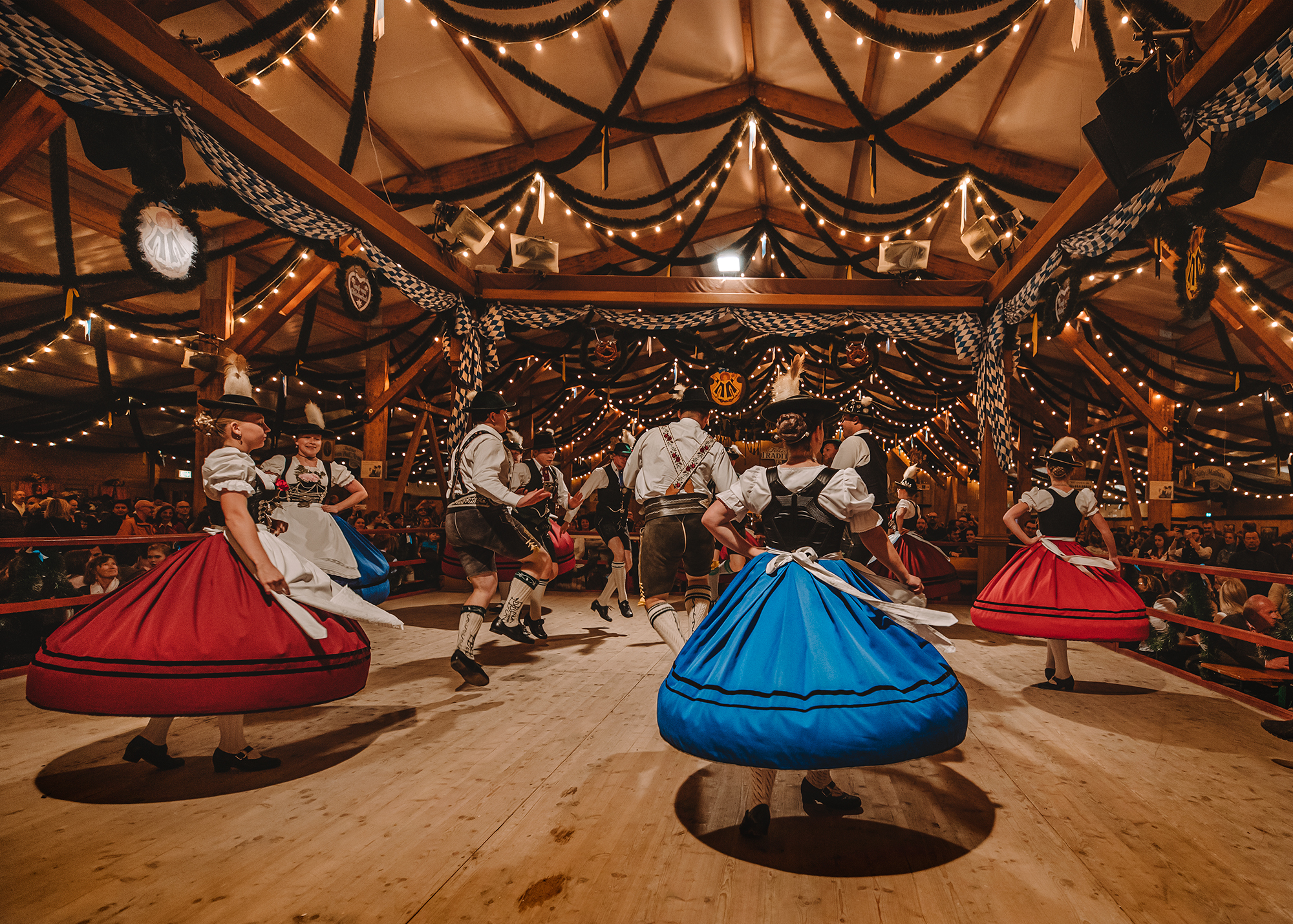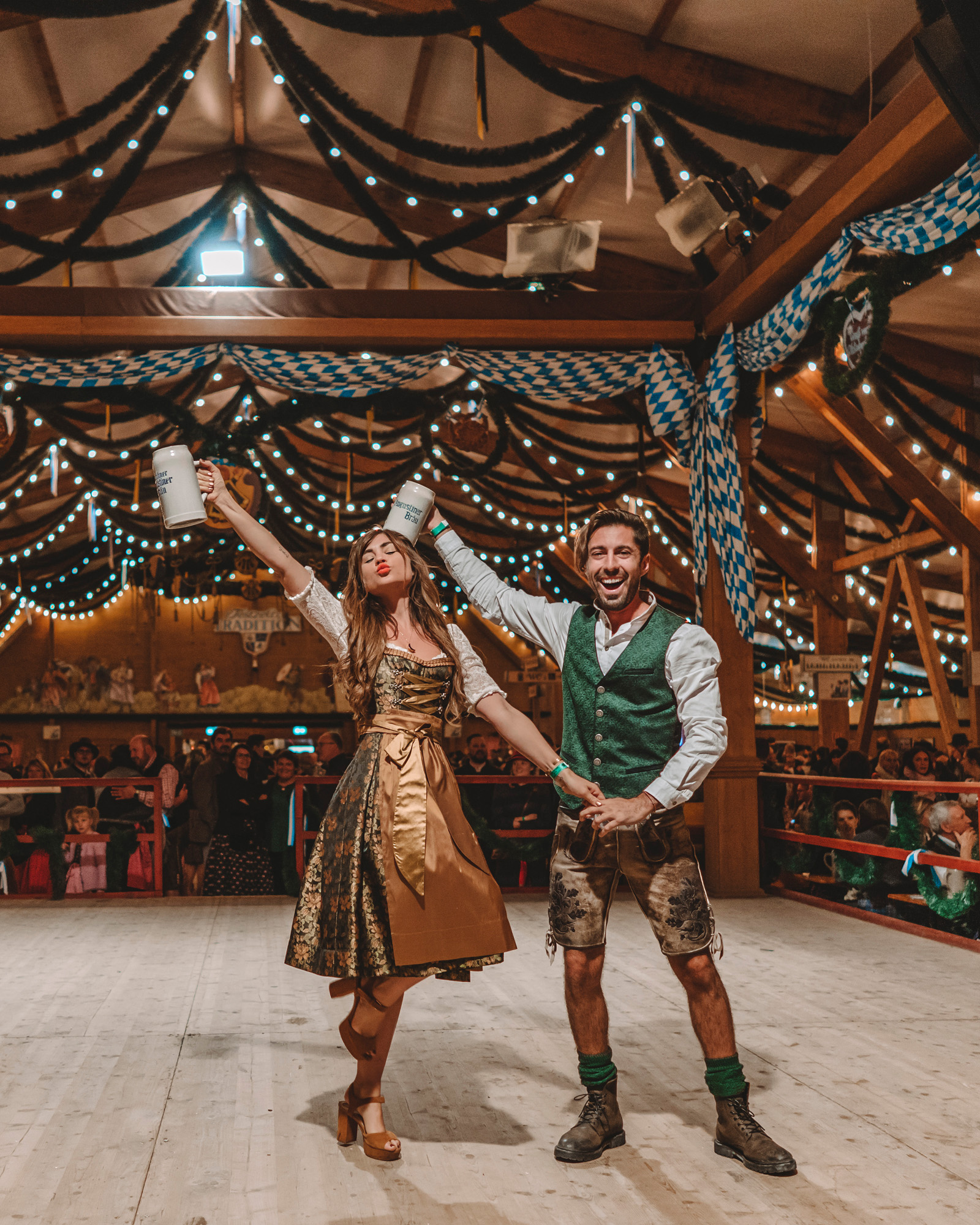 Watch Our Film:
Pin It For Later: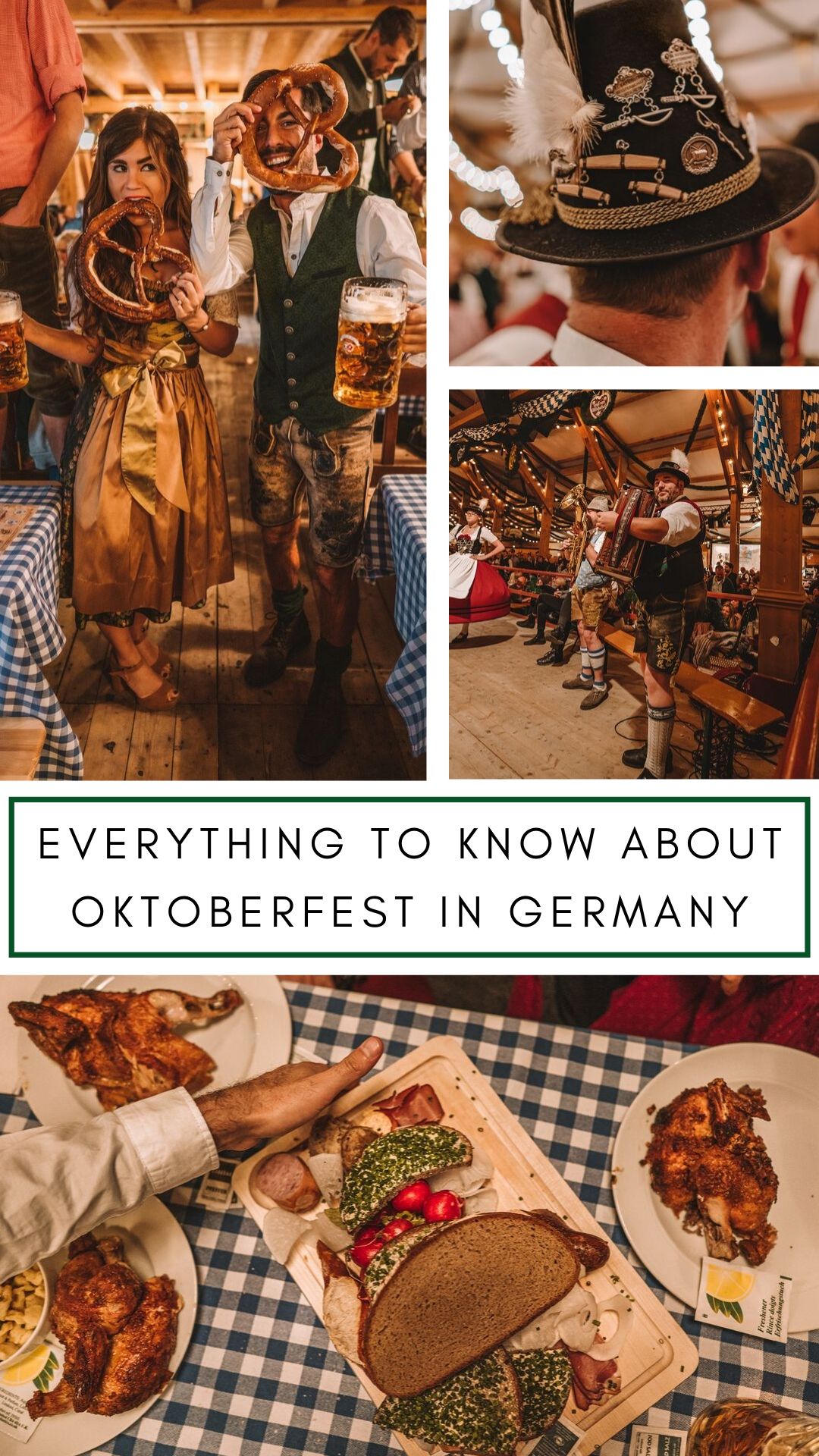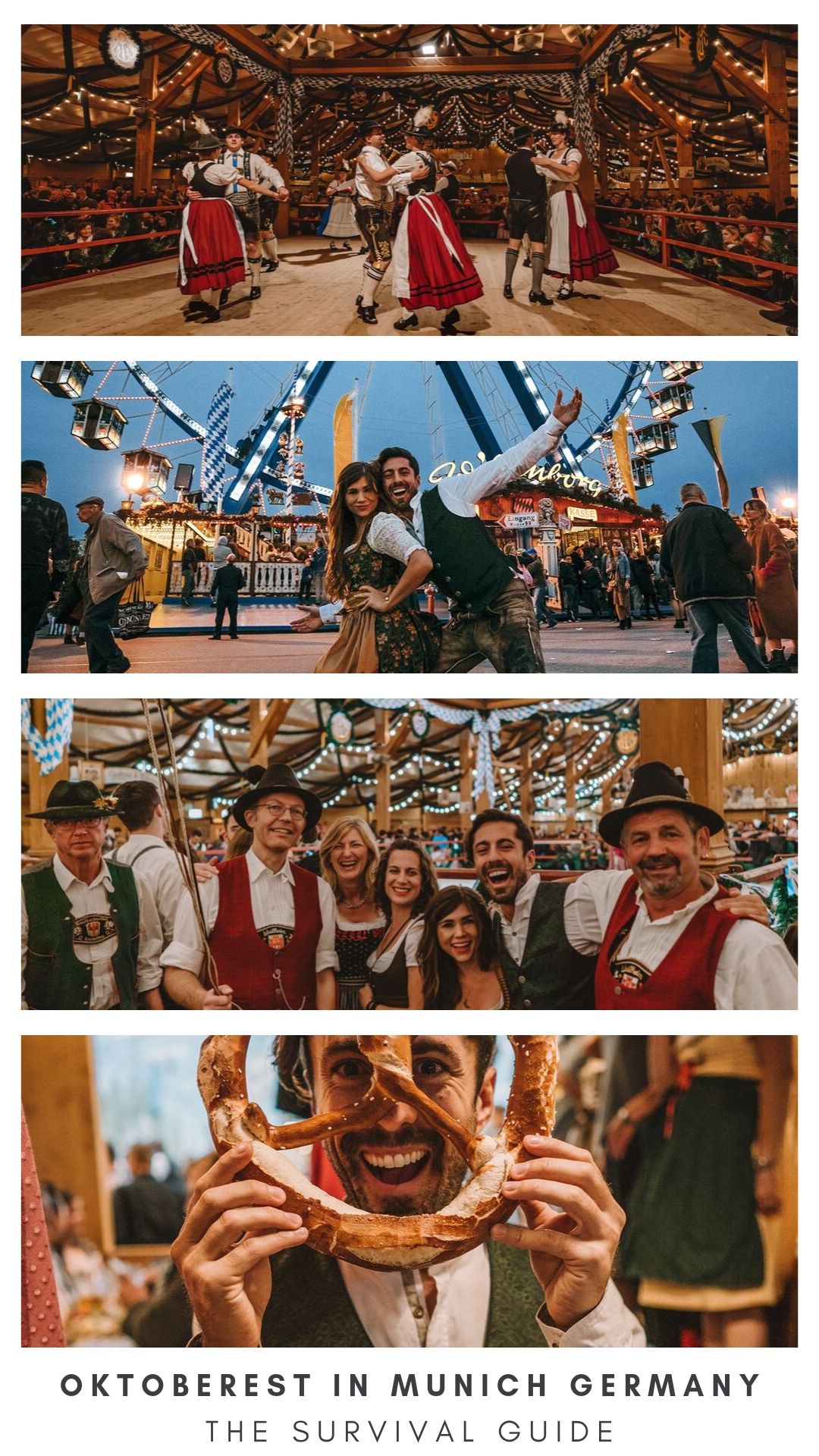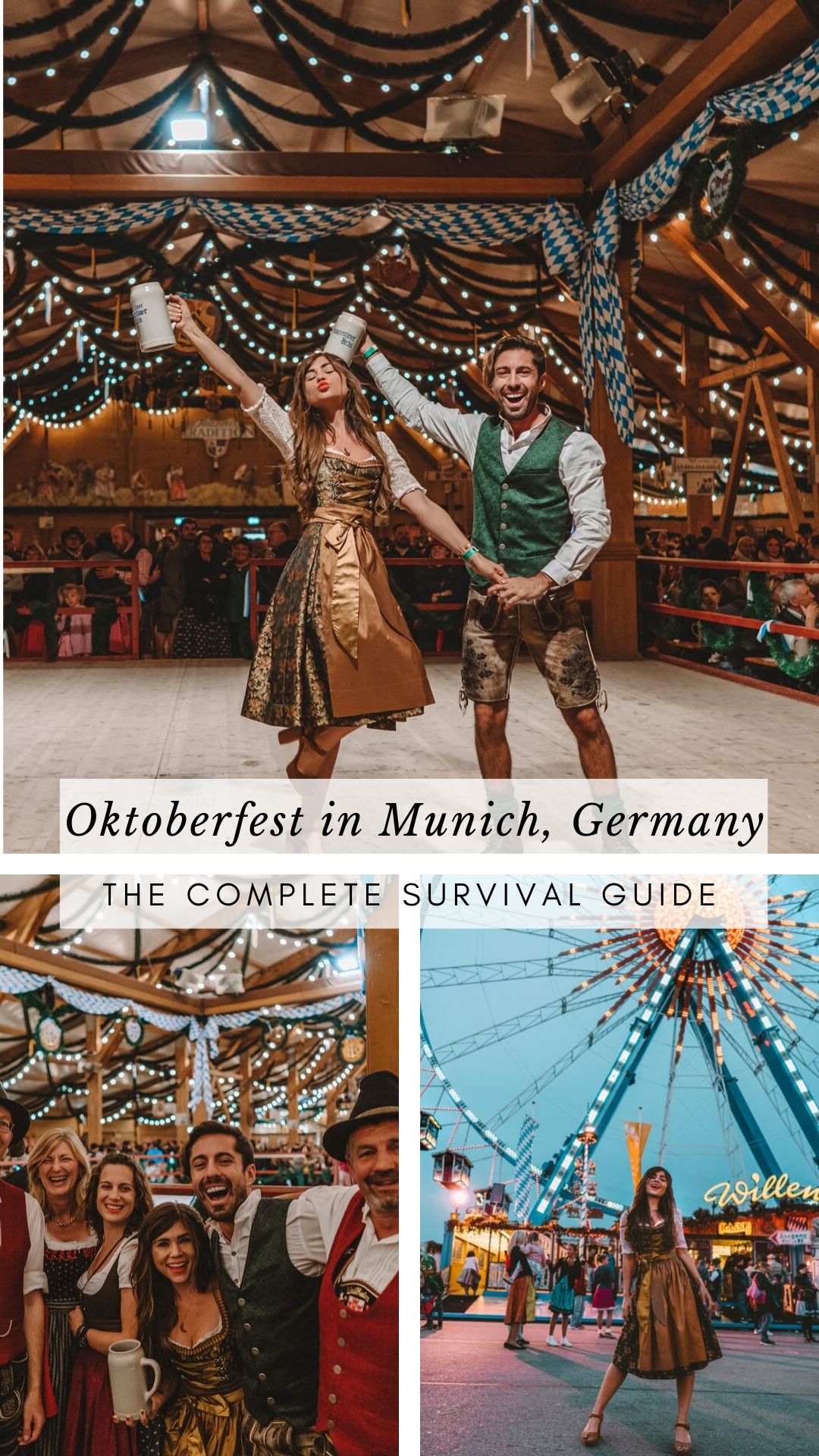 Start Booking Now:
Search the best hotel prices below.